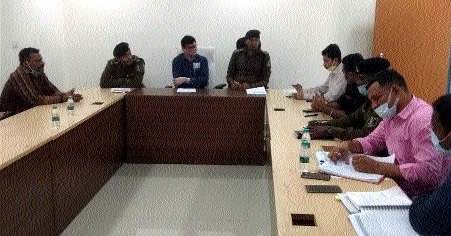 Meeting being chaired by authorities from District Administration.
Staff Reporter :
BHILAI,
LOCAL commercial vehicles will have to pay 50% toll while special provision has been made for private vehicles. The toll issue was sorted out in the meeting convened by district administration authorities with representatives from transport association and the contractual firm of Bafna Toll Plaza, Durg. The meeting was chaired by K Verma, SDM, District Administration, Durg.
Talking to the The Hitavada SDM, Verma informed that with submission of list of local commercial vehicles by transporter association all listed local commercial vehicles will have to pay 50% toll while the special provision has been made for local private vehicles of Rs 120 monthly toll. He set aside the rumour of toll recovery from two-wheeler stating that there was no such provision ever for the two-wheeler. SDM informed that there is no provision of refund as only fifty percent toll will be debited for local commercial vehicles.
He also added that all local commercial vehicles listed by transporter association will be entitled for the rebate in toll and for transportation within the district. SDM, Verma specifically pointed out that be it local private vehicles or commercial vehicles obtaining FASTag is mandatory or else double toll will be imposed. Even the commuters with private vehicle without FASTag will be charged double toll for each passing.