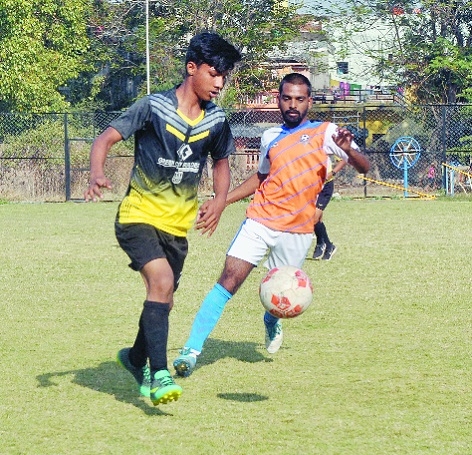 Players in action during their Senior Division football league match on Monday.
(Pic by Anil Futane)
Sports Reporter :
YOUNG Boys Football Club forward Irshad Ahmad slammed a hat-trick as team blanked Al Fateh Football Club 4-0 in the JSW Senior Division Football Tournament on Monday. In another match, Gouhar Football Club beat Maverick Football Club 4 1. Ahmad's first goal of the hat-trick came in the first half (32nd) and the score remained 1-0 at the breather.
After the change of ends, Ahmad scored two in a row in the 62nd and 70th minutes of play to complete the coveted mark. In the dying minutes of play, Salim Patel (89th min) added one more to complete the rout. Ahmad, however, was also cautioned for his foul play in 80th minute while for Al Fateh, Mohd Jameel was booked by the referee in the 55th minute. Riding on a goal each by the quartet of Abdul Gafoor (28th), Azam Khan (32nd), Furqan Ansari (51st) and Shahbaz Khan (79th), Gouhar FC beat Maverick 4-1.
In fact, it were Maverick who got the ball rolling scoring first goal in the 4th minute through Sahil Yadav. Gouhar played with ten men after Altamash Ansari (14th, 24th) was booked twice. Gouhar's Ziya Ansari (40th), Md Shahbaz (75th) and Maverick's Ayush Yadav (90+1 min) were flashed with yellow cards. On Tuesday: Orange City vs Ansari FC 1.30 pm; Hansraj vs Nagpur Star 2.30 pm.