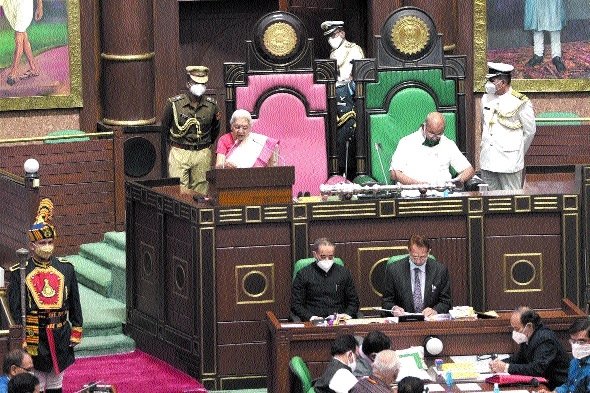 Governor Anandiben Patel addressing Madhya Pradesh Assembly on first day of Budget Session on Monday.
Staff Reporter :
Governor sheds light on various aspects of Government, including steps taken for effective control of pandemic despite financial crunch
Madhya Pradesh Assembly Budget Session commenced with address of Governor Anandiben Patel on Monday. In her speech, Governor shed light on various aspects of Government, including steps taken for effective control of corona pandemic despite financial crunch. Patel said that Government paid special attention on hospital management in last 11 months (of corona period) and contract was done with private hospitals for free treatment of infected people. Government worked to bring economy and livelihood of people on track. She said Madhya Pradesh Government's effort to arrange screening, food, transport facility to migrating labours during lockdown was praised across the country.
Under Mukyamantri Pravasi Majdoor Sahayta Yojana, Rs 15.60 crore were transferred into accounts of 1.55 lakh labourers. She also mentioned other schemes such as loan to street vendors, social security pension schemes under which Government helped needy people. She also praised corona warriors who served people by risking their lives. Lauding the guidance of Prime Minister Narendra Modi in helping fight against pandemic, she said that she is happy that the State Government first prepared 'Atmanirbhar Madhya Pradesh' road map in the country. She said the Government also embarked on campaign against liquor mafia, drug mafia, encroachment mafia, cyber mafia, sand mafia, ration mafia, chitfund mafia etc.
From land mafia, Government freed 3300 acre land (in State) and estimated cost of freed land is Rs 8,800 crore. As many as 172 FIRs were registered against adulterators in the State. So far, 227 adulterators have been arrested. She said from January 9, Religious Freedom Ordinance-2020 has been implemented in the State which envisages strict action in case of doing marriage in forceful, deceitful and forcing for religious conversion. State registered increase of 394 MW in availability of electricity and 10 time rise in solar energy capacity. Solar energy capacity has increased to 5042 MW.