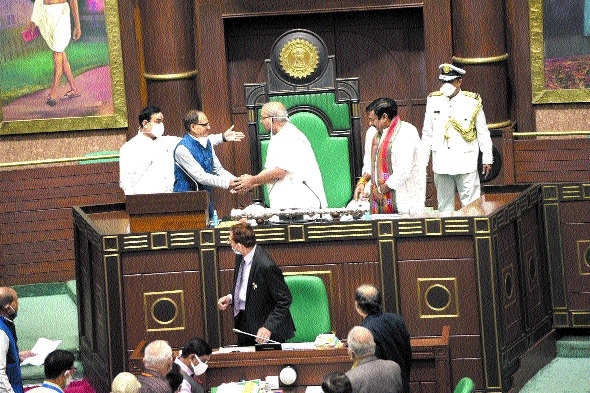 Chief Minister Shivraj Singh Chouhan congratulating newly elected Speaker Girish Gautam on Monday.
Staff Reporter :
Girish Gautam was elected unopposed as Madhya Pradesh Assembly Speaker on the first day of Budget Session on Monday. On getting elected as Speaker, Girish Gautam assured the house that he will carry on rich traditions of Assembly and will not allow even a scratch on it. Moreover, he asserted that he will remain 'Nishpaksh' on chair. Earlier, Chief Minister Shivraj Singh Chouhan moved proposal to elect Girish Gautam as Assembly Speaker.
This proposal was seconded by Parliamentary Affairs Minister Dr Narottam Mishra. Likewise, Medical Education Minister Vishwas Sarang, former Speaker Dr Sitasharan Sharma, MLA Nagendra Singh, Rampal Singh, Mineral Resources Minister Brijendra Pratap Singh, MLA Panchulal Medha, Divyaraj Singh, K P Tripathi, Agriculture Minister Kamal Patel also moved proposals to elect Girish Gautam as Assembly Speaker and these proposals were seconded by other members of the house. Leader of Opposition Kamal Nath and Opposition MLA Dr Govind Singh seconded proposal moved by CM and others.
Later, Protem Speaker Rameshwar Sharma announced election of Girish Gautam on Speaker's post. The CM congratulated Girish Gautam on election to Speaker post and shed light on his illustrious political career. Kamal Nath said that after Sunday's lift incident (happened with him in Indore), it was difficult for him to come to Assembly as he is having pain in neck and knees. But he decided that his presence in the house is necessary in respect of Speaker. He congratulated Girish Gautam on unopposed election to Speaker's post. He assured him full cooperation from the Opposition in running the house. In his address, Speaker Girish Gautam said he will not allow even a scratch on traditions set by previous Speakers of the house. He also said that when he is on chair he is Nishpaksh (unbiased).