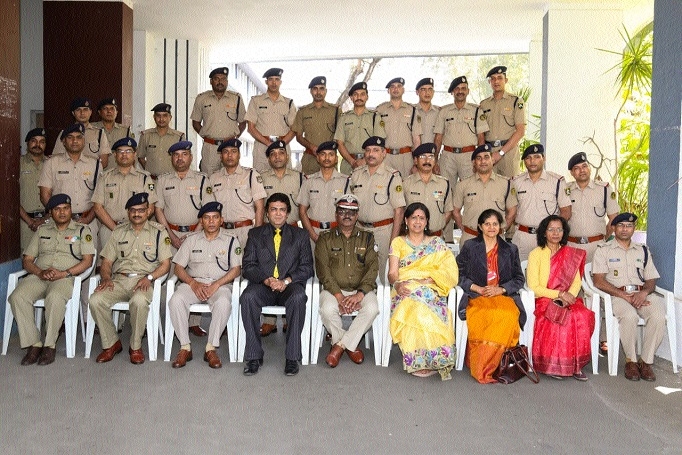 Guests with the ITBP officers undergoing training course at ITBP. (Pic by N K Budhodi)
Staff Reporter :
Advanced training of Indo-Tibetan Border Police (ITBP) on 'Optical Fibre, Satellite and Advance Microwave Communication' was inaugurated at Bharat Ratna Bhimrao Ambedkar Institute of Telecom Training (BRBRAITT), on Monday. Chief guest on the occasion was IG (Jabalpur Zone), Bhagwat Singh Chouhan while MAWE, President, Archana Bhatnagar was special guest. BRBRAITT, General Manager, Dr. Manish Shukla presided over the programme and ITBP, Deputy Commandant, Manoj Sachan was present. Addressing the programme, IG, BS Chouhan applauded the contribution of this prestigious institution in development of the nation.
He remembered his probation period in year 1989 when limited means of communication were available and wished the ITBP personnel for their advanced telecom training for ensuring security of national borders. Archana Bhatnagar signified the contribution of BRBRAITT and ITBP in development and security of the country. She proposed for initiating new skill development courses for women entrepreneurs. In his welcome address, GM, Dr. Manish Shukla informed that BRBRAITT was established in year 1942 and a premier institute of providing telecom training in Asia. The institute is imparting training of advanced telecommunication technologies to several Government and Non-Government institutions in India and other Asian countries.
He expressed his gratitude towards dignitaries for their auspicious presence and expressed the commitment for providing best telecommunication training to national security forces. Earlier, Public Relation Officer, Pankaj Rai detailed about the advanced telecom training facilities and achievements of the institution. He added that the institution had recently celebrated its platinum jubilee year and imparting training of emerging technologies. Total 30 ITBP personnel representing different corners of the country are attending the advanced telecom training course.