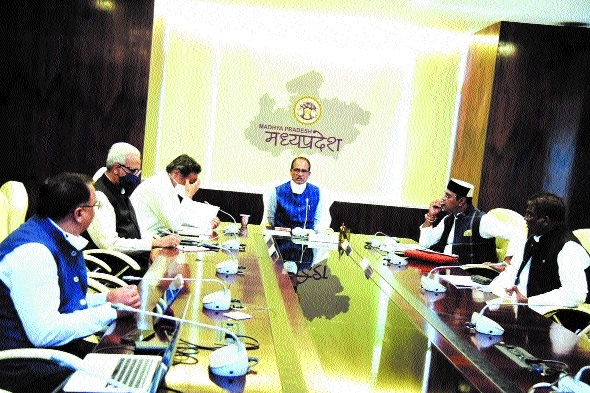 Chief Minister Shivraj Singh Chouhan addressing corona review meeting at Mantralaya on Monday.
Staff Reporter ;
Chief Minister Chouhan ask for alertness in districts adjoining Maharashtra and to test people arriving from the neighbouring State
Chief Minister Shivraj Singh Chouhan said that constant vigilance regarding corona is necessary. Even a slight negligence can prove fatal. He directed to ensure compulsory use of masks in Indore and Bhopal. Notably, corona cases are once again rising in gradual manner in Indore and Bhopal. CM Chouhan also gave instructions to test people coming to all districts adjoining Maharashtra. Instructions were given to all district collectors in the meeting held in Mantralaya to review situation of corona.
All district collectors were instructed to immediately convene a meeting of Crisis Management Group in their districts and take prompt decision regarding necessary precautions in view of prevailing circumstances at district-level. Discussion on maintaining strict vigilance on movement from Indore and Bhopal to other parts of the State was also held in the meeting. In rural areas of all districts adjoining Maharashtra, all Government teams, including Rural Development Department, should start a campaign on activities like prevention of corona and Roko-Toko. Public Health and Family Welfare Minister Dr Prabhuram Chaudhary, Medical Education Minister Vishwas Sarang, Chief Secretary Iqbal Singh Bains, Additional Chief Secretary Health Mohammad Suleman, Director General of Police Vivek Johri were present in the meeting. Chouhan said that vigilance and awareness is must during fairs held in the State on 'Shivratri'. He said that a large number of people from Maharashtra attend fairs held in Chhindwara and Betul on 'Shivratri'. Crisis Management Groups of districts concerned should hold meetings to take timely decisions regarding organising fairs and necessary precautions.