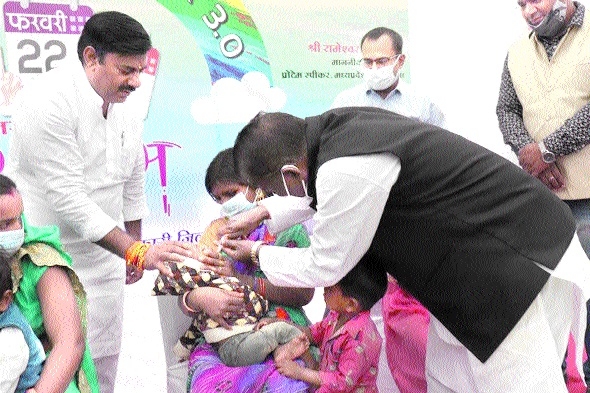 Health Minister Dr Prabhuram Chaudhary and MLA Rameshwar Sharma administering polio drops to a child at Gandhi Nagar CHC in Bhopal on Monday.
Staff Reporter :
Public Health and Family Welfare Minister Dr Prabhuram Chaudhary launched Mission Indradhanush-3 at Gandhi Nagar Community Health Centre in Bhopal on Monday. Huzur MLA Rameshwar Sharma administered polio drops to children during inauguration of the campaign. Health Minister Dr Prabhuram Chaudhary said that vaccination of children and women continued despite adverse circumstances of pandemic in the State. During this period, 29,33,000 children from 0-5 years of age and 8,48,000 pregnant mothers were vaccinated.
He informed that Mission Indradhanush-3 campaign is being launched in 7 districts of the State, including Bhopal, Bhind, Burhanpur, Chhindwara, Gwalior, Indore and Khargone. Second phase of the campaign will be organised from March 22. In the campaign, children and expectant mothers, who could not receive vaccine shots, will be vaccinated. MLA Rameshwar Sharma said that positive support and leadership of the Sarpanch of each Panchayat and Councillor of urban ward is expected.
He also called upon health team of the State, saying that just like hundred per cent vaccination rate was achieved during Mission Indradhanush from 2015 to 2018, similar expectations are from Mission Indradhanush-3 campaign, to be held from February 22 to March 22. Health Minister Dr Chaudhary said that the State has been ranked first in the country after achieving the target of 76 per cent in corona vaccination. He said that a proposal to upgrade community health centre Gandhi Nagar to a civil hospital has been given. A poster of Mission Indradhanush was also released on the occasion. Health Commissioner Dr Sanjay Goyal, Director Basant Kurre, State Immunisation Officer Dr Santosh Shukla and CMHO Dr Prabhakar Tiwari were present.