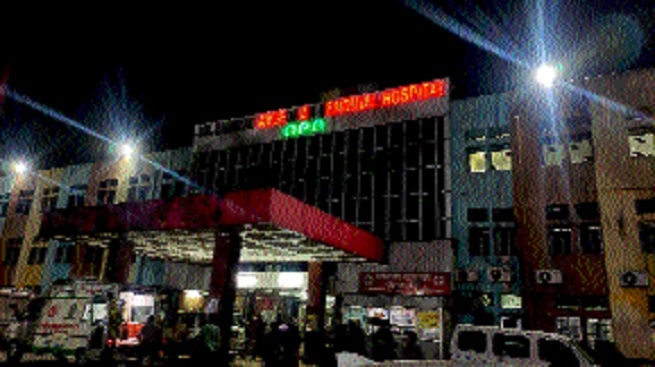 Fused Neon lights of OPD building in sorry state.
Staff Reporter :
RAIPUR,
Neon light of Dr B R Ambedkar Memorial Hospital(BRAMH) has become non functional since several months showing the laxity of the Hospital management. Fourteen letters of the hospital's name are apparently not visible. BRAMH is one of the leading hospital of Chhattisgarh with the best cardiac treatment facility given free of cost to patients of State. The Advanced Cardiac Institute (ACI) situated under the hospital recently performed first Trans-catheter Aortic Valve Replacement (TAVR) procedure. First ELCA Laser system of country was launched in ACI department by Health Minister T S Singhdeo on January 29, which made the country pride.
Machine is used for removing heart blockage through laser, is one of the greatest achievement of the government hospital. Dedicated Covid ward, Cancer care hospital and many challenging cases are solved by the team of expert doctors which adds to glory of the hospital. Patients from far flung area reach the hospital for treatment and get cured. At the same time due to poor maintenance of neon lights placed over the OPD Entrance gate the name of hospital is not visible and it reads as 'AMBE A EMORIAL Hospital, OPD' during night from a distance which, in no way can be interpreted as Dr B R Ambedkar Memorial Hospital.
Dr Vineet Jain, Hospital Superintendent informed that the matter has come to his notice and he has directed the office staff to get the lights repaired, but the practical problem faced is that, staff could not trace the files related to installation and maintenance of the light as it was installed long time back. However, he has asked the officials to trace the files and to get the things resolved at the earliest.