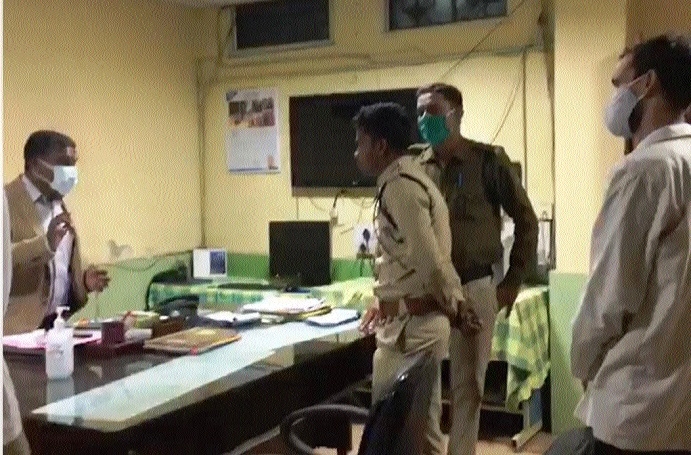 Jail Guard Shatrughan Uraon arguing with officials.
Staff Reporter :
RAIPUR,
Moudhapara Police on Monday took a Jail Guard into custody after he allegedly thrashed a technician at Dr Bhim Rao Ambedkar Hospital. The jail guard had come to get medical examination of a prisoner. According to the reports, Jail Guard Shatrughan Rao along with a prisoner had come to Dr Bhim Rao Ambedkar Hospital to get medical examination of an ill prisoner on Monday morning. In the hospital, he was going from one room to another for different tests, and each test was consuming a lot of time.
The prisoner was to get MRI and X-Ray scanning. Shatrughan waited outside the X-ray and MRI rooms for a long time, but his patience finally ran out. Jail Guard lost his temper and began shouting at the technicians. Soon, as a verbal spate broke out and it spiraled into Shatrughan allegedly assaulting the technician. After the doctors staged a Gherao, Moudhapara Police took the Jail Guard in custody and registered an FIR against him under relevant provisions of the Indian Penal Code. A meeting between Dean Dr Vishnu Dutt, ASP City Lakhan Patle, CSP Anjaney Varshaney and other officials of police and hospitals were discussing the issues.