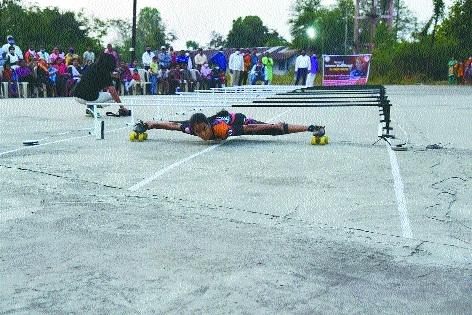 Shrishti Sharma clears the last hurdle on her way to a new Guinness World Record.
By Anupam Soni ;
SIXTEEN-YEAR-OLD Shrishti Dharmendra Sharma rewrote Guinness World Record for fastest time to limbo skate under 10 bars on Saturday. As part of 'Beti Bachao Beti Padhao' campaign, Shrishti attempted to better her own record of 1.720 seconds during a joint venture of Aam Valley Sporting Association and Centre Point School, Wardhman Nagar at WCL Umrer Skating Rink. In fact, on her all three attempts, she bettered the previous mark. In her first try, she successfully limbo skated under 10 bars in 1.705 seconds, she improved it to 1.697 seconds in the second and finally in the third attempt she clocked a timing of 1.694 seconds.
"All the relevant records of evidence will be uploaded on Guinness World Record website and in about three months time we will be informed of their decision," Shrishti's father Dharmendra informed 'The Hitavada'. The CPS student had made her first attempt for the record on January 24, 2019 with a timing of 1.891 secs and followed it up with 1.879 secs on June 12 the same year. But due to technical problems the record got rejected.
Shrishti did not lose heart and her timing of 1.720 secs on January 28, 2020 in the third attempt with all proofs was accepted by Guinness World Record. Her latest feat was witnessed by Sports Minister Sunil Kedar, Rajendra Mulak, Raju Parwe, WCL's Alok Lalit Kumar and Shivkumar Yadav among others.