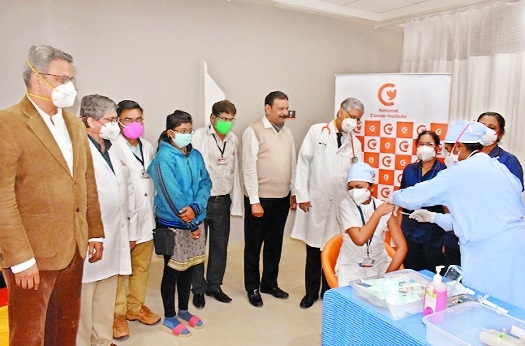 Business Bureau :
National Cancer Institute, which has always been at the forefront in pioneering initiatives, adoption of latest technology for delivery of cancer care, diagnosis and cancer prevention, is now taking a step towards elimination of COVID-19 and ensure the safety of the staff and ultimately its cancer patients. The COVID-19 vaccination drive has begun at National Cancer Institute on February 3.
On the first day, front-line workers were vaccinated against the novel corona virus which has gripped the world and affected many in the past one year. As many as 200 health care workers of National Cancer Institute were vaccinated with Covishield vaccine on Wednesday. The first jab of vaccine was administered to the frontline nurses who are most at risk. National Cancer Institute is fully prepared for the vaccine rollout with more than 500 of its healthcare workers to be given doses every scheduled day. National Cancer Institute set up COVID Care Centre for cancer patients and the healthcare workers in its facility to have easy access to immediate medicare.
Throughout the challenging period, NCI took all the precaution and gave non-stop services which included COVID 19 testing and quarantine facilities. Representatives from the Directorate of Health Services Sachi Wahane, Chief Health Officer- Borikhedi, Dr Dilip Kadu, Medical Officer- Borikhedi and Pravin Sahare, Pharmacist- Borikhedi were present during the vaccination drive. In addition to these, the senior clinicians and administrators from National Cancer Institute, Dr Anand Pathak, Medical Director, Shailesh Joglekar, GS and CEO, Dr Prakash Kakani, Medical Superintendent and Col. Dr Ravi Ramani (Veteran), General Manager, clinical operations and the nursing staff were also present.