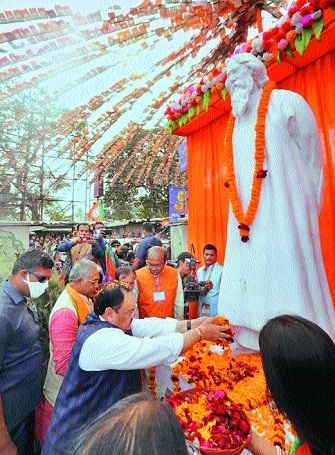 By Supratik Sengupta :
NABADWIP/MALDA,
BHARATIYA Janata Party (BJP) President J P Nadda on Saturday launched the party's 'Parivartan Yatra' from Nabadwip in West Bengal's Nadia district, and asserted that the people have decided to bid farewell to the Mamata Banerjee Government in the Assembly elections. He also accused the TMC Government of politicising the administration and criminalising the police. Claiming that the TMC's slogan of "Maa, Mati, Manush" (mother, land and people) has been reduced to "dictatorship, tolabaji (extortion) and (Muslim) appeasement," Nadda said adding that the TMC dispensation has betrayed the trust people had reposed in it. He alleged that only the ruling Trinamool Congress leaders have benefited under Mamata Banerjee and even funds meant for relief in the aftermath of cyclone Amphan were misappropriated by them.
He later flagged off an improvised 'Rath' as part of the BJP's 'Parivartan Yatra' to bring about a change in West Bengal from Nabadwip, the birthplace of 15th century saint Chaitanya Mahaprabhu. He said Union Home Minister Amit Shah will inaugurate two of the other four such 'Rath Yatra' slated later this month. Earlier in the day, Nadda while addressing a political programme - Krishak Suraksha Abhiyan - in Malda district attacked West Bengal Chief Minister Mamata Banerjee for depriving about 70 lakhs farmers in the State from receiving the money under Pradhan Mantri Kisan Samman Nidhi Yojana. He said that because of the West Bengal CM's ego, the farmers of Bengal could not avail the benefits of the Central scheme.
The BJP chief joined around 4,000 farmers for a common-lunch (saha bhog) in the district on Saturday. Around 30 cooks prepared the lunch which included items like khichdi, mixed vegetables, fried brinjal, chutney and papad - all ingredients collected from farmers' households as a part of BJP's "Ek Mutti Chawal" campaign. "The food was really delicious. It had the love of our farmers," Nadda said, assuring that the Narendra Modi-led Government at the Centre would fulfil the dreams and aspirations of the farmers. He also visited the Central Institute of Subtropical Horticulture during his visit.