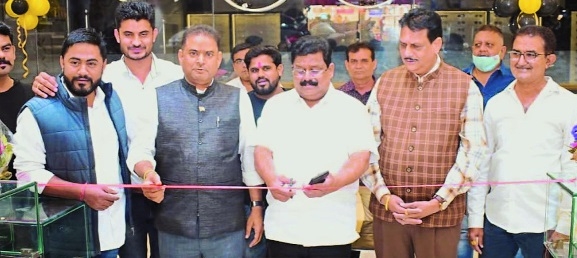 Business Bureau :
The Optical Planet outlet situated at Dharampeth was inaugurated by MLA Vikas Thakre, Maharashtra Pradesh Congress Secretary Atul Kotecha and Director Veerbhan Motwani on Sunday. The other directors of Optical Planet Deepak Motwani and Lal Motwani revealed that the new outlet has introduced latest collection and fresh stock for the customers. Optical Planet is a well-known name for imported and branded opticals. The new collection at the showroom is getting an overwhelming response from the customers.
The showroom is equipped with computer to check eyes of a person for free. Along with this, opticals with numbers are prepared at the showroom. A person can get brands like Armani, Barsachi, Ray Ban and wide range of high end brands at the showroom. Optical Planet provides fast service. Sun goggles with numbered glasses can be fitted at the outlet. On the occasion, MLA Vikas Thakre said, "Everyone should remember that all successful businesses are based on principle of ethics. One of your worst customers can be one of the biggest reasons to learn something. Just as each part of the body performs special task, therefore protecting your eyes is important."
He said that three generations of Motwani family have been devoting their generous service in the interest of customers. MLA Girish Vyas gave his wishes and said that customers should get best service and quality products at reasonable rates. Pravin Mahajan, Kuku Marwaha, Gopal Rathi, Dipak Asrani, Pramod Thakur, Dilip Jivtani, Sameer Sharma, Arun Kalbanade, Amir Noori, Bhisham Telani and others were present. Interested may visit Optical Planet situated at West High Building, WHC, Dharampeth.