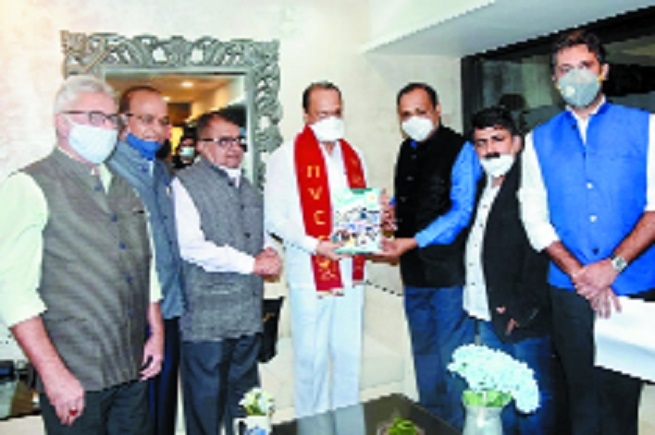 Business Bureau :
A delegation of the Nag Vidarbha Chamber of Commerce (NVCC), the apex trade organisation of the region with more than 13 lakh members, on Monday met Maharashtra Deputy Chief Minister Ajit Pawar and gave some suggestions and shared ideas for the upcoming State Budget for the next financial year. President of the chamber Ashwin Mehadia told Pawar that the ghost of eartwhile Local Body Tax (LBT) is still haunting many traders. "LBT was abolished in 2016 but its assessment is still going on which is troubling many traders.
The concerned authorities are sending notices to the traders and those who are not responding to it within the allotted time limit are also facing seizures of bank accounts," Mehadia highlighted saying that the traders are already facing hardship because of the recent lockdown imposed to prevent spread of novel coronavirus. He brought to the notice of Pawar that the Nagpur Municipal Corporation (NMC) is accepting LBT challans only at the branch of Maharashtra Bank located in its premises in Civil Lines. Mehadia said that the Government should close the LBT department once for all and give respite to the traders. Vice-President of the chamber Arjundas Ahuja said that the traders are facing similar issues with regard to MVAT assessment.
The urged the Deputy Chief Minister to restart the MVAT Amnesty Scheme 2019 which was introduced with the purpose of closing down the disputed MVAT cases. The scheme has come to end but Ahuja said it needs to be resumed to finish all the pending cases on fast track mode. Vice President Farooque Akbani said that the Government should either abolish Professional Tax or it should be made applicable only to those having more than Rs 25,000 monthly salary. Vice President Sanjay Agrawal highlighted the need to enhance the time limit of relaxation in Stamp Duty.