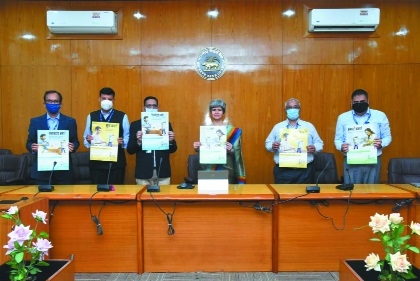 Regional Director of RBI Nagpur Sangeeta Lalwani (Centre), Dr P S Venkateswaran, GM (Right), Akash Solanki, DGM (Left), Suresh V Satpute, GM, R S Sirola, DGM and
B K Singh, AGM at the function.
Business Bureau :
RESERVE Bank of India (RBI) has been conducting Financial Literacy Week (FLW) every year since 2016 to propagate financial education messages on a particular theme across the country. The theme selected for the current year FLW is 'Credit discipline and credit from formal institutions' which will be observed from February 8 to 12. The inaugural function of the Financial Literacy Week was organised at RBI Nagpur on Monday. While highlighting the theme of the FLW 2021, the Regional Director, RBI Nagpur Sangeeta Lalwani emphasised on promoting and deepening financial education focused on developing credit discipline and encouraging people to avail credit from formal institutions as per requirement.
This will bring the various benefits associated with better financial inclusion like transparency in processes, recourse to grievance redressal mechanism, improved credit score, possibility of better terms and conditions for future credit, creation of economic value and prevention of slippages into non performing assets (NPAs). The Regional Director also informed the participants that RBI has developed content in the form of posters and audio-visuals on the theme. Banks have been advised to disseminate the information and create awareness among its customers and general public.
This theme is one of the strategic objectives of the National Strategy for Financial Education 2020 to 2025. Focus will be on responsible borrowing, borrowing from formal institutions and timely repayments. Further, RBI will undertake a centralised mass media campaign during the month of February 2021 to broadcast essential financial awareness messages to general public. Senior officers from the banks, NABARD, Lead District managers and R-SETI directors of all districts of Vidarbha and senior officers from RBI were present.