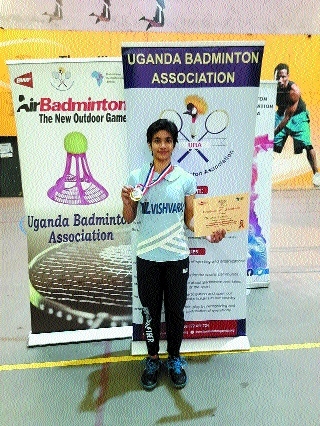 Malvika Bansod proudly poses with her gold medal and winner's certificate.
Sports Reporter :
NAGPUR'S pride Malvika Bansod, who was playing competitive badminton after a gap of 4 to 5 months, did not look rusty as she won the Uganda International 2021 at Kampala, Uganda on Sunday. To her credit Malvika did not drop a single game till she reached the final. In the summit clash, second seed Malvika was up against fifth seeded compatriot Anupama Upadhyaya. To start with Anupama looked in control as she had played a three-game semi-final. Anupama took the first game 21-17. Malvika pulled up her socks and levelled the scores winning the second close game at 25-23. Once she found her groove, Malvika was unstoppable.
She dominated the decider and grabbed it comfortably at 21-10. Earlier in the tournament, Malvika got the better of three Uganda players after starting her campaign against a Kenyan player. In the semis, she beat Fadilah Shamika Mohamed Rafi 21-2, 21-7 without breaking a sweat. The southpaw was just too good for Husina Kobugabe in the third round winning it 21-9, 21-3. In the second round, Olivia Nakajja could win just seven points in the two games going down 3-21, 4-21. In the tournament opener, Malvika showed her prowess with a convincing 21-2, 21-0 win over Juma Akoth. Malvika expressed her happiness after winning the title. "I am very glad to win the Uganda International Series. It was after a gap of 4 to 5 months that I played a tournament and I was under pressure to be able to play well. My coach Sanjay Mishra sir had worked very hard with me.
"It took me sometime in the final to adjust to the drift and judgments . But once I got adjusted to it, I played the third game well," said Malvika. Currently ranked No 150 in Badminton World Federation (BWF) in women's singles, Malvika also expressed her gratitude towards her coach and well-wishers. "I would like to thank Sanjay Mishra sir, my coach; Mr Arun Lakhani sir and Vishwaraj Infrastructure Limited, Mr Mangesh Kashikar sir, Go Sports Foundation, my parents and my practice partners for my victory. It was important for me to win this after the COVID break. I still have a long way to go and hope to give my best in times to come," she concluded.