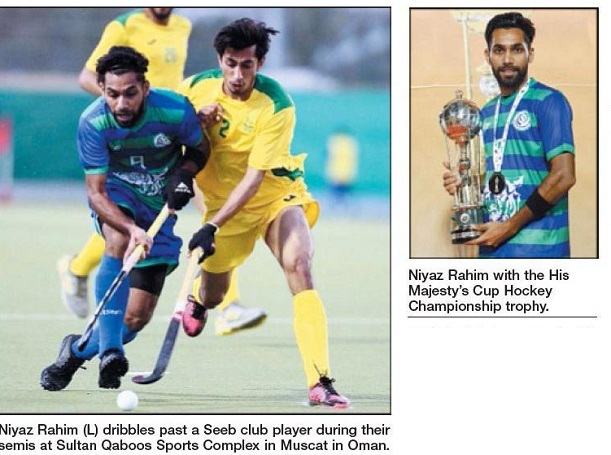 By Paritosh Pramanik :
CITY'S talented hockey player Niyaz Rahim has once again proved that he belongs to the top league as he helped his club clinch the 50th edition of the coveted His Majesty's Cup Hockey Championship in Muscat, Oman, recently. Playing for Oman's domestic heavyweight Ahli-Sidab club, who has won a record 12 titles, Niyaz displayed his skills and agility to win accolades from one and all. In the summit clash Niyaz's Ahli-Sidab, who were runners-up last season, stunned arch-rivals Bausher by three goals to nil to lift the trophy after a gap of two years. Playing as a foreign recruit, Niyaz, who has led Indian Railways for record five times to the podium, has India player Affan Yusuf as his team-mate apart from players from other countries.
"It was a good tournament. We had lost the final last time but this year we were determined to clinch it," Niyaz told 'The Hitavada' after returning to Nagpur from Oman. "Hockey is still at a nascent stage in Oman. They are still learning the basics. They mostly rely on foreign players. But they are a fast learner. My club had players from Pakistan and Bangladesh too," said Niyaz who was also India probable and is still in Hockey India's scheme of things. Niyaz spent more than two weeks in Oman first spending quarantine period in his hotel room and then playing around 6-8 matches for his club.
"After completing my quarantine period, I played a few league matches and after winning most of those games we entered knock-out round. In semis, we beat 11-time winner Seeb Club 6-3," informed Niyaz, who works with Southern Railways. "The final was like a 'clasico'. Both the clubs have won the title for record 11 times. It was a battle for reputation. We fought hard and managed to get early lead. That helped us in taking control of the game at Sultan Qaboos Sports Complex (SQSC)," said Niyaz of the final game. On the development of hockey in the football-mad country Oman, Niyaz said, "they are doing a lot to promote and polularise the game. Still, there is a long way to go. They have now roped in former Indian women hockey coach CV Kumar. He will be of a great help for Oman. I am sure Oman would be challenging top countries in years to come.
The players are very hard working there. They have stamina and speed. What they need is tactical and technical knowledge of the game. Once they learn that, they would be a team to beat," hoped the midfielder. On his personal experience Niyaz said, "It was an excellent tour. This was for the second time I was playing in Oman. Every time you play such leagues it helps you learn something new. I would like to thank Hockey India and my employer Indian Railways for granting me permission to play in Oman. I would love to play again there," Niyaz signed off.