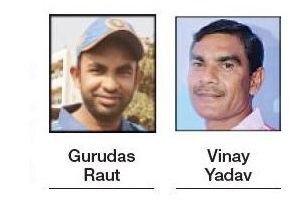 Principal Correspondent :
Nagpur's international disabled cricketer Gurudas Raut and Vinay Yadav are leading the Maharashtra and Vidarbha teams for disabled in the Divyang T10 Cricket Tournament for Disabled which begun at Saheed Vijaysingh Pathik Sports Complex, Noida in UP. The tournament is being hosted by Physically Challenged Cricket Association of India. Raut, who works with Maintenance Command, Indian Air Force, will lead the Maharashtra team while Ravi Patil of Palghar is vice-captain. Vinay Yadav, who is employed with Central Railways Nagpur, will lead the Vidarbha team. Irshad Khan of Akola has been named as the vice-captain.
The teams: Maharashtra: Gurudas Raut (captain), Ravindra Patil (vice-captain), Anand Ghogaliya, Ravindra Sante, Vikrant Keni, Kalpesh Gaikar, Sachin Harishchandre, Kalpesh Patil, Mayur Chaudhari, Himesh Dawane, karan Chakode, Palash Yadav, Rishikesh Yespatil. Anil Kotangale (coach), Sanjay Bhoskar (manager). Vidarbha: Vinay Yadav (c), Irshad Khan (vc), Lokesh Marghade, Sarang Chafale, Azhar Sheikh, Gajanan Rokade, Nagesh Ingale, Hanuman Shinde, Dhiraj Harde, Sudama Shende, Mahafuz Alam, Ajay Dongre, Arjun Vaidya, Rinkesh Bisen, Sachin Pakhare.
Vijay Munishwar, Uttam Mishra, Namdev Balagar, Nutan Umredkar, Advait Manohar, Bhushanji Dadve, Dhananjay Upasani, Prashant Vaidya, Sharad Padhye, Anil Bobde, Raju Bhau Gore, Noel Joseph, Anil Kotangle, Sachin Tombre, Ashok Katekar, Vikky Deshmukh, Raju Dudhankar,Rahul Lekurwade, Piyush Ambulkar, Nagesh Sahare, Prakash Sahastrabuddhe,Nitin Bararpatre, Mohit Reddy, Air officer Commanding in-chief Air Marshal Shashiker Chaudhary VSM, Air Marshal M Baladitya (SMSO) VSM, Sunil Mahto Commanding Officer (U) Maintenance Command HQ Nagpur wished the teams luck.