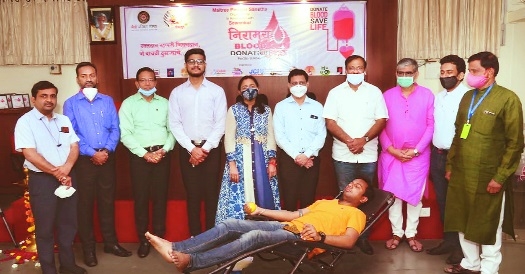 One of the sportspersons of the city donating blood.
ATHLETES and sportspersons of city donated blood during the blood donation camp jointly organised by Nagpur District Athletics Association, Vidarbha Karate Association, Shakuntala Sports Foundation, Aai Kusum Sahare Sports Foundation, Ishwar Deshmukh College of Physical Education, Surya Foundation, Avadhoot Arts, NCC Golden Group, Squash Association at Sitabuldi. Maitree Pariwar Sanstha and Sevankur Sanstha took the initiative in organising the blood donation camp. The blood was collected by Dr Hedgewar Blood Centre.
Those who donated blood include international gymnast Prachi Parkhi, former international runner and Director of Physical Education and Sports Department, Rashtrasant Tukadoji Maharaj Nagpur University Dr Sharad Suryawanshi, Dr Pushkar Bijwe, Prakash Durbule, Soma Kiran, Vaishali Khante, Vidarbha Karate Association secretary Vijay Ghichare, athletics coach Jitendra Ghordadekar, netball player Shubham Mate, footballer Ichcha Sahare, gymnast Rishikesh Warhade, badminton coach Chetak Kherdikar and Rama Pande.
Earlier, the camp was inaugurated by Dr Archana Kothari, President, Indian Medical Association. Dr Samer Jahagirdar, Dr Pinak Dande, Vinod Kumar Tambi, Prof Sanjay Bhende, Prof Pramod Pendke, Sr Sachin Jambhorkar, Dr Dheeraj Gupta and others were also present. Dr Tejas Suryawanshi made introductory remark while Dr Sharwari Joshi proposed a vote of thanks. Prof Madhuri Yawalkar conducted the programme.
Dr Tejas Suryawanshi, Dr Pushkar Bhai, Dr Nirnay Gajediwal, Dr Gopal Ingle, Dr Aditya Vaidya, Dr Irshita Khadatkar, Dr Sharwari Joshi, Dr Mihir Dhamgol, Dr Dhanashree Khapre, Dr Shreya Dhanore, Dr Nikita Warkad, Dr Bhakti Soni, Dr Jhanvi Ghode, Dr Shruti Pathak, Dr Krunal Priyal, Dr Mrudul Sharma, Dr Chetan Dhanorkar, Dr Shahuraj Jagtap, Archana Kottewar, Ramchandra Wani, Yugbahadur Chatri and others worked hard for the success of the camp.