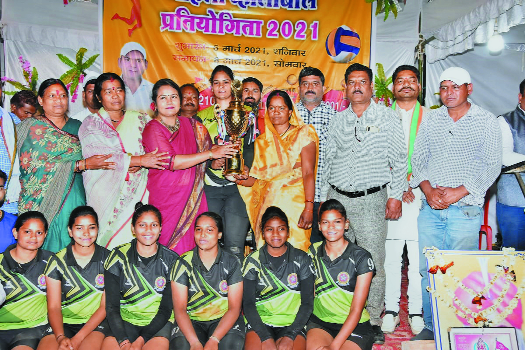 Nagpur eves defeated Agra to clinch the All India Open Volleyball Championship which was held at Mandla, recently.
In the summit clash Nagpur edged past Agra 3-2 in an edge-of-seat encounter.
The winners received cash prize of Rs 21,000 and a trophy while runners-up Agra got Rs 11,000. Besides, six players who performed well in the competition were also award with mementoes by the organising committee.
All India Open Women's Volleyball Tournament was organised under aegis of Shaheed Shankar Shah, Raghunath Shah Sports Club at Eklavya Residential Sports Ground in Sijhora village of Mandla district. A total of 30 matches were played between teams from eight teams.
Bhilai and Delhi finished third and fourth respectively.
Social worker Sunita Singh Shukla, President of District Panchayat was the chief guest of prize distribution function.
Saraswati Maravi presided over the programme. Former Mandi President Sunil Namdeo, District Panchayat Member, Neeraj Markam, Aruna Dixit, Nanavati Kudape, Princess Dhurve were special guests.
Bhilai won the match by 2-0 to clinch the bronze medal.
Chief guest Sunita Shukla congratulated all the players of winning Nagpur team.
While addressing all the women players, President of District Panchayat Saraswati Marawi said that the event is dedicated to women of the district is a matter of great pride and thanked the organising committee. Six players who performed well in the competition were given a shield from the committee and a wrist-watch from former Mandi Chairman Sunil Namdeo.
Principal, Eklavya J Singh, Sattu Marawi, Police Station In-charge Bichhiya, Dr Mukesh Jharia Community Health Centre Bichhia, Rajendra Rawat, Alok Dixit, Pradeep Goswami, Ashok Rajput, D K Uike, Suresh Sahu, Roshan Sahu, Gyanendra Shukla, Narendra Sahu, Purshottam Balkhe, Akhilesh Rai, Prashant Saiyam, Deepak Namdev, Ramnath Yadav and others were also present.