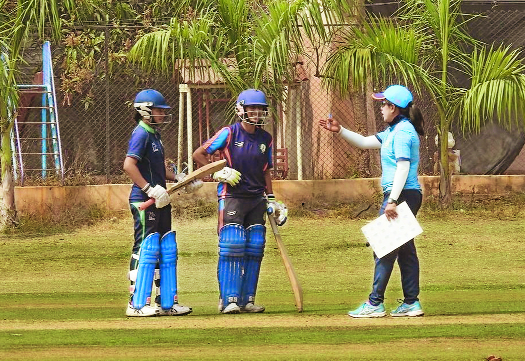 Vidarbha women cricketers will be back in action after a long gap when they take on Meghalaya in the Senior Women One-Day Tournament to be played at Chennai.
The tournament holds significance for Vidarbha women as they had hardly played any competitive cricket since COVID-19 enforced lockdown in March 2020.
It would be a task cut out for coach Shrabani Debnath to field the best possible XI for the opening encounter which will set the tone for the remaining part of the competition.
In their opening encounter Vidarbha will meet a lowly Meghalaya and would look to starting on a positive note. The team, which completed eight days in quarantine in Chennai a couple of days back, is high on confidence. Off-spinner Aachal Sahu was added to the team which is led by Komal Zanzad after one player tested positive.
Disha Kasat is vice-captain of the side which will play five league matches and are placed in Group E. The team also has hard-hitting batswoman Bharti Fulmali. A lot would depend on captain and pacer Komal and left-arm spinner Nupur Kohale to put pressure on the opponents. Similarly, Bharti Fulmali will have to score big to put Vidarbha in a commanding position if they bat first. Disha Kasat will play a big role as a batting all-rounder.
Both Komal and Bharti were part of Indian women T20 team that played against visiting England side a couple of years ago. Raveena Singh, Vinaya Mate and Shweta Naidu are three wicketkeepers in the squad.
Vidarbha also boast of batswomen Sapna Meshram, Ankita Bhondage, Shivani and Prangini Chouhan and all-rounders Krutika Pophali, Vaishnavi Khandkar.
The bowling department will be spearheaded by speedster Komal who will have pacers Sayali Kamone, Prajakta Jogi, Saniya Chourasiya, Gargi Wankar apart from spinners Aachal Sahu, Reena Paul, Minal Bodkhe to assist her.