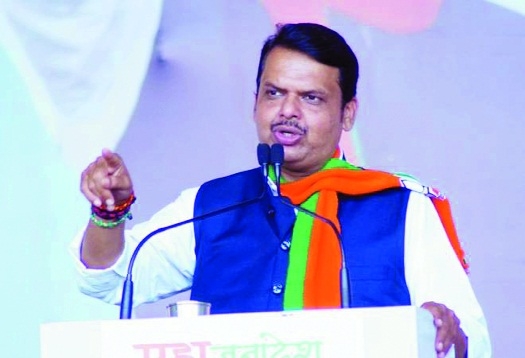 Principal Correspondent :
PRESIDENT of Wardha District Hockey Association (WDHA) and former MP Suresh Waghmare along with Vidarbha Hockey Association (VHA) Administrator Triloki Nath Sidhra and WDHA secretary Krishna Joshi met former Maharashtra Chief Minister Devendra Fadnavis and urged him to save Vidarbha Hockey Association and hockey in Vidarbha region. In a letter written to Fadnavis, Waghmare stated that existence of VHA is in danger due to 'One State One Association' rule of Indian Olympic Association (IOA).
He informed Fadnavis that as many as 22 districts from Vidarbha, Marathwada and Khandesh are affiliated with VHA which has been functioning since 1959. The Maharashtra government had also allotted 3.80 acre land to VHA in 1960 on Amravati road and 2.05 acre land in Sadar area. VHA has developed lush green ground on Amravati road and the association teams including sub-junior, junior and senior are continuously participating in the nationals. The letter further stated that VHA also conducts coaching camps for all age players in both boys and girls categories.
Apart from this the association also conducts sub-junior junior and senior hockey tournaments in which players from 22 districts participate. Players also get certificates that help them to secure bonus marks in HSC and SSC exams. On the basis of these certificates several f players get government jobs through sports quota. Waghmare stated that Hockey India has given affiliation to banks and academies from all over the country then why they are giving step-motherly treatment to Vidarbha? He urged Fadnavis to discuss the matter with IOA president Narendra Batra and revert the decision of Hockey India so that future of Vidarbha hockey players is not ruined.
Ex-CM enlightened on pending dues with NMC The VHA delegation also enlightened Devendra Fadnavis about pending dues with Nagpur Municipal Corporation. Sidhra said, "We went and discussed regarding the loss of Vidarbha players and also the contribution of Rs 15,00,000 already sanctioned and pending with NMC when Devendra Fadnavis was MLA. The amount was sanctioned to erect the floodlights around the grounds. Fadnavis had directed his secretary to refer this matter to NMC. He also assured to discuss and solve this matter with the Central Sports ministry regarding the injustice meted out to Vidarbha Hockey Association".