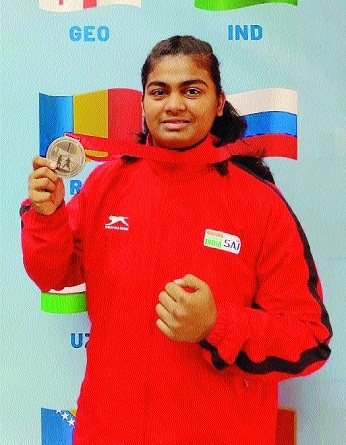 Principal Correspondent ;
India's rising boxer and Asian junior champion Alfiya Akram Pathan has once again stamped her authority in country's junior circuit when she was selected in the Indian youth boxing team which will take part in Youth World Boxing Championship at Poland from April 10 to 24. According to reports, Nagpur's Alfiya thrashed Punjab's mighty pugilist Komal Jora Singh hands down to emerge victorious in the selection trials at the National Boxing Academy in Rohtak in 81+ kgs weight category. A total of four boxers were called for trials out of which two gave walkover. Alfiya played final bout against Komal and won by unanimous decision of 7-0 from five judges and two selectors. The left-handed pugilist punched her opponent to the floor to win the one-sided bout.
As per Boxing Federation of India's selection criteria, the winning boxers from all categories are automatically picked in the Indian squad. Alfiya's selection was declared by Maharashtra Boxing Association Secretary Rakesh Tiwari and Nagpur City Boxing Association Secretary Poras Kotwal. Alfiya, daughter of Assistant Sub-Inspector at City Police Headquarters Akram Pathan, is ranked India Number 1 in junior category. The 2019 Asian Junior Girls Champion Alfiya showed superb agility and fitness to notch up an easy victory.
Last month, Alfiya had won gold medal for India in the 30th Adriatic Pearl Tournament in Budva, Montenegro. This competition at Poland will be important as far as Alfiya's graduation to senior level is concerned. This will be the stepping stone in Alfiya's career when she would make the cut at the senior level in the years to come. Jay Kowli, President, Maharashtra Boxing Association, Rakesh Tiwari, Secretary , Maharashtra Boxing Association, Dayashankar Tiwari, President, Nagpur City Boxing Association, Arun Bute, Secretary, Nagpur City Boxing Association, President Sajjad Husain, Secretary, Porus Kotwal and coach Ganesh Purohit congratulated Alfiya.