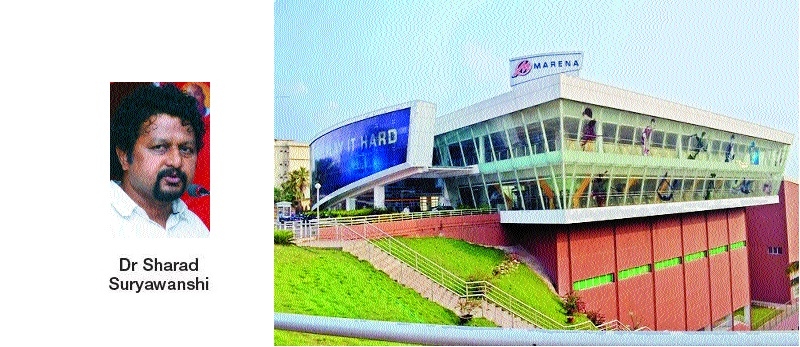 RTMNU is planning to construct indoor sports complex on the lines of Manipal University Indoor Sports Complex.
By Paritosh Pramanik :
IF ALL goes well, Rashtrasant Tukadoji Maharaj Nagpur University (RTMNU) will have India's best indoor sports complex in coming years. Recently, Sports Ministry had asked RTMNU to return its Rs 1.2 crore grant for not utilising it for indoor sports complex. The proposed complex was supposed to come up first at RTMNU's Sports Stadium in Ravi Nagar. Due to objection from several quarters it was shifted to Campus area. Later, the venue was shifted back to behind Subhedar Hall. But, RTMNU failed to start the construction work. Not even the bhoomipujan was done. Taking a tough stand, Ministry for Youth Services, Government of India after issuing show-cause notice twice, cancelled their grant and had asked RTMNU to return the money.
Learning a harsh lesson, RTMNU has decided to construct indoor sports complex beside basketball courts once again. According to sources, the proposal has also been passed in the Senate meeting recently. In January this year, RTMNU formed a committee headed by former Board of Studies Chairman Babanrao Taywade. The committee has already started working on the project. A couple of meetings were also held in this connection. The other committee members include Director of Physical Education and Sports, RTMNU Dr Sharad Suryawanshi, who is also the secretary of the committee, former mayor Kundatai Vijaykar, Management Council member Vishnu Changde, former India cricketer Prashant Vaidya, Arjuna Awardee Vijay Munishwar, Senate Member Adv Manmohan Bajpayee, former Director of Physical Education and Sports Dr Dhananjay Welukar, Maharashtra Netball President Vipin Kamdar, former handball player Viral Kamdar and Sanjay Bhende. The said land, which is to the left of entrance gate of the Sports Stadium in Ravi Nagar, is sufficient enough to construct India's best indoor stadium.
"At present Manipal Indoor Sports Complex is the best in the country. We want to construct indoor stadium much better than Manipal University Indoor Sports Complex," Dr Suryawanshi, told 'The Hitavada'. "Dr Babanrao Taywade along with other members will be meeting Union Minister Nitin Gadkari regarding this project. I am sure Gadkari will help us," hoped Dr Suryawanshi. "The area is sufficient for our dream project. It is approximately 90 metres in length and 40 metres in width. There is another 60 metres of unused land at the back side," mentioned Dr Suryawanshi.
"A team will be visiting Manipal Indoor Sports Complex soon. A report will be submitted then and on the same lines the Indoor Sports Complex will be constructed," said Dr Suryawanshi. The indoor complex will have shooting range, basketball courts, badminton, table tennis, gymnastic halls, wrestling rings, handball area plus gymnasiums. As per the proposal, there will also be ample space for other indoor events like judo, karate, yoga etc. "It will be a multi-storied building," revealed Dr Suryawanshi. "During the meeting held in February, RTMNU Vice-Chancellor Dr Subhash Chaudhari, who was also present, gave green signal for the project," Dr Suryawanshi said.
"The project would cost around Rs 35-40 crore. RTMNU will contribute around Rs 5-8 crore. We will try to generate money through CSR. We can also get grant from Khelo India Sports Infrastructure Development Scheme. "Even the State Government can help us. This session they have helped Aurangabad University. Next year we will submit our proposal," informed Dr Suryawanshi. "During the Senate meeting Dr Smita Wanjari informed that RTMNU which would be celebrating its centenary year in 2023-24 and due to Dr Abhijit Wanjari's efforts we (RTMNU) will be getting Rs 50 crore from State Government. We can also get some funds from this money for sports complex," hoped the former international athlete.