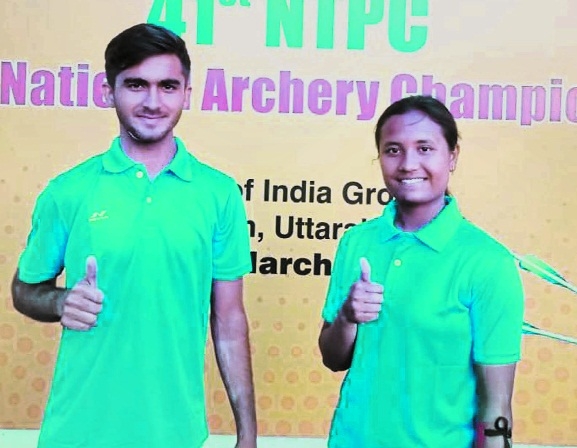 Archers Sonia Thakur (right) and Amit Kumar who won medals in the national championship.
Sports Reporter :
DEFYING all odds, players of Madhya Pradesh State Archery Academy proved their mettle in 41st Junior National Archery Championship at Deharadun and bagged two silver and a bronze medal in the competition. Madhya Pradesh archers Sonia Thakur won a silver while Amit Kumar won a bronze medal. The duo also won a silver medal in mixed category in 41st Junior National Archery Championship in Uttarakhand.
They had a miraculous escape when their train Shatabdi Express caught fire on their way to Dehradun a few days back. On Saturday, the State Academy Archers were travelling from Delhi to Dehradun in Shatabdi Express and the coach C5 they were travelling in, caught fire. The players were rescued safely along with other passengers. However, their luggage and kits were completely gutted. New kits were ordered same day from Patiala. However, it was a difficult task to get accustomed to the new strings and bows and give performance immediately. But both the players left the horrifying incident behind and claimed medals.
In girls' recurve event, Sonia won a silver medal by scoring 642 points. In boys' recurve event, Amit scored 665 points and won bronze medal. Similarly, in the recurve mixed team event, Sonia and Amit won silver medal bringing cheer to their camp. Minister for Sports and Youth Welfare Minister Yashodhara Raje Scindia said that by the grace of God all our players are safe. By winning medals at this championship, players have proved that success can be achieved with patience and restraint even in testing times.