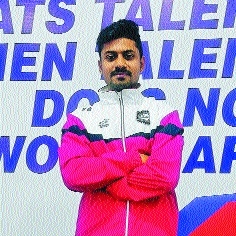 By Paritosh Pramanik :
Star Vidarbha kho-kho player Dilrajsing Sengar, who hails from Katol, expressed his excitement to be watched by people on TV and said broadcasting of the Ultimate Kho Kho will take the sport to larger audience. "I have been playing kho-kho since the last 14 years and I never thought that I would ever attend a camp with so many world class facilities. Now, I understand my body and game better," said Sengar. Sengar who will be part of Ultimate Kho Kho, said the game will definitely rise once it is beemed on televisions.
"I am thrilled to know that kho-kho league will come live on TV and people will be able to see us live. It will further increase the interest of people in the game," the 25-year-old Sengar, who recently attended KKFI and UKK's first-ever High-Performance scientific training camp, said. A member of Vidarbha Krida Mandal (VKM), Katol, Sengar has been associated with the club since he was 14. "I used to play for Vidarbha Krida Mandal in Katol. Since I started playing I am associated with VKM," said Sengar who works with Forest Department. His club VKM is one of the strongest clubs in the region and has won many titles. "We are winners of almost all the tournaments held in Nagpur. Ours is one of the strongest clubs in Nagpur. "At VKM there used to be around 60-70 players practicing at one time.
Kho-kho is very popular in Katol. Though the number has slightly dwindled due to coronavirus, still there are 40-50 players playing at present," said Sengar who did his graduation from Nabira College, Katol. Sengar feels UKK will do a world of good for kho-kho players and they will be financially sound from now on. "UKK will definitely help us grow financially. It's a big platform for all the players. After this league, we will be financially strong because most of the players belong to middle or lower-middle class families. It will be of great help for all the players. Above all we will be recognised all over once we are on TV," he mentioned.
The teams will consist of men and under-18 from all States across India registered under Kho Kho Federation of India. Player drafts are scheduled for mid-year this year and franchise-owners will be offered a bank of over 150 Indian players based on their performance and score in national and recently concluded high performance training camp in February 2021. Sony Pictures Networks India (SPNI) has signed an exclusive multi-year TV and Digital broadcast deal with Ultimate Kho Kho. Scheduled to kick-start in September, SPNI and UKK will bring forth this home-grown sport in its new avatar under the lenses of sports technology and innovations, that will guarantee high-octane games exclusively across SPNI's network sports channels and their dedicated OTT platform 'SonyLIV '.
"Ultimate Kho Kho will bring back the oldest sport packaged in a modern avatar coupled with a new format and a dazzling television product that has the potential to not only revolutionise the sport but also create a unique experience for the audience—something that no one has ever witnessed before," Amit Burman, Dabur Group Chairman and Promoter of the Ultimate Kho Kho said in a statement. Rajesh Kaul, Chief Revenue Officer, Distribution and Head, Sports Business, Sony Pictures Networks India, said: "Our focus has always been to promote a multi-sport culture in India and Ultimate Kho Kho is a great addition to our sports portfolio. Tenzing Niyogi, Chief Executive Officer, Ultimate Kho Kho stated: "For a sport to be packaged as a brand, it needs to have 'an edge of the seat' format, where every minute is a spectacle. We aim to create new champions, celebrate the pride for the sport and take kho kho to newer commercial heights."