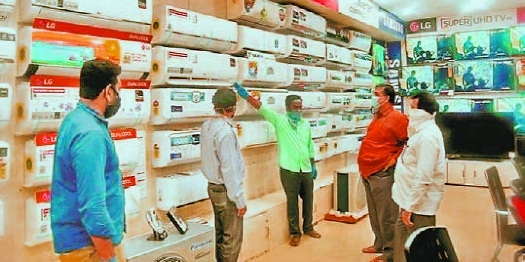 Business Bureau :
THE current lockdown from March 15 to 21, has shattered the business prospects of the traders in consumer durables at a time when they were gearing up for the peak summer season. "Total lockdown on business establishments is not advisable as it is hampering economic growth. Business operations and measures to curtail the spread of COVID-19 should go hand in hand," said Nihar Taori, Director of Taori Marketing while speaking to The Hitavada. He said that consumer durables like air conditioners, TVs, washing machines, coolers, mixers, geysers, refrigerators and other products are no longer considered as luxury items but have become a necessity in today's life.
He suggested that instead of imposing blanket ban on opening of business establishments, the Government should allow traders to open their establishments in a controlled atmosphere by restricting timings from 10 am to 6 pm, limit the number of staff working in big establishments, allow bookings and home delivery of the products. "The complete closure of business establishments benefits only online companies. Brick and mortar shops are at huge disadvantage as sales dry up, inventory lies unsold, bank loan repayments gets delayed, while electricity, tax, rent and salaries cannot be made on time," he said. "If loan payments get delayed then CIBIL score gets damaged and banks refuse to lend in future," he pointed out. Total lockdown ceases the growth momentum of business. After which it takes a lot of time and efforts for consumer spending to return to normalcy.
Traders and all stakeholders in the society should be taken into confidence before enforcing lockdown. The lockdown creates fear among the people and spending gets deferred, he said. "In developed markets like US or UK, the governments provide compensation to businesses. Also, the cost of loans is very low ranging from 2 per cent to 4 per cent compared to a high of 10 per cent to 15 per cent in our country," he added. Gaurav Pahwa, Director of Lotus Electronics, said that when ever there is control on the movement of people they tend to flock to the market in larger numbers. The mass gatherings at market places helps to spread the coronavirus among the people.
He is of the opinion that the lockdown should be implemented in controlled manner to curtail the spread of the coronavirus. The timings for business establishments should be extended from 8 am to 12 midnight. Accordingly, people could book appointment for shopping at a particular showroom. This would allow more people to visit the shops at their convenience and maintain physical distancing. Traders should also limit the number of staff and customers visiting their shops and strictly follow safety procedures.