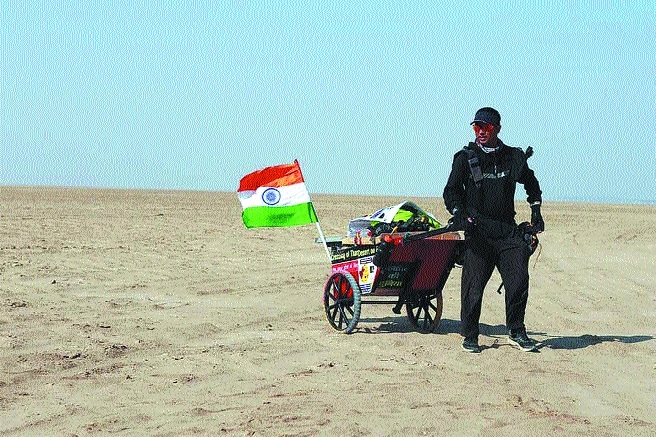 Principal Correspondent :
Choukse covers 1551 kms across Thar desert in 52 days City's International Ultra-Marathon Runner was on 'Stop Suicide Mission'
City's International Ultra-Marathon Runner was on 'Stop Suicide Mission'
ON AN evening (December 31) when the entire world was preparing to celebrate arrival of the new decade (2021), Nagpur's International Ultra-Marathon Runner Atul Kumar Chouskey was packing his bag and trolley for a difficult and adventurous journey— a 1551 kms run on foot across Thar Desert. With a message of 'stop suicide and superstition', Choukse completed the arduous journey in 52 days. He jogged, ran, walked 1551 kms pulling a 160 kgs trolley tied to his back and shoulders and accomplished his mission on February 21 at Bhatinda. There were blisters on his feet, bruises, sun burn as he walked on the deserts of Thar, braved the bone chilling winds in Punjab, Haryana, at Pakistan border and at Rajasthan.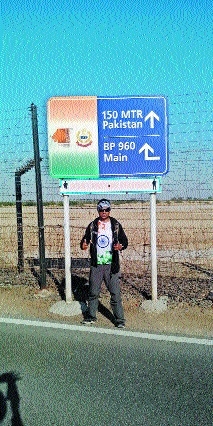 But Choukse never stopped and conquered one after other 'peaks; to successfully complete his 'mission'. Choukse decided to go all alone, his companion being only his trolley which had essential items like water cans, solar panels, batteries, sleeping bag, tent, food items, medical kit, and anti-venom medicines. The ultra-marathon runner from Nagpur started his sojourn from Nadbet in Gujarat on December 31. He started from the salt desert of Rann of Kutch. "It was not an easy start. Due to walking on the salty desert, there where blisters in my foot. The tyres of my trolley, too, got punctured. Still, I pulled my trolley and somehow reached Mithavi Rana, the last village of Gujarat. I crossed into Rajasthan from there and at Barmer village purchased tyres and medicines," said Choukse while narrating his successful journey. The journey forward from there on also was not easy.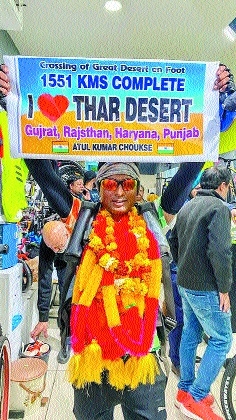 He reached Kiradu where he made a documentary film of 1500 years old temples. "I will be naming my documentary as 'fakir ki duniya'. I have recorded many unknown facts about our country, untapped locations, temples, ruins. I will show all these through my documentary," informed Choukse. Walking through the deserts, Choukse reached Jaisalmer Desert National Park and again reached India-Pakistan border near Tanot Mata Temple. "This was the place where Pakistan forces threw around 3000 bombs on Indian soldiers during 1971 war but none exploded," said Choukse who also runs Atulniya Foundation. "I slept alone at the so called 'Ghost land' in Kuldhara village. It was pitch-dark in the night and I was all alone surrounded by around 500 haunted ruins," Choukse mentioned. "I wanted to beat the fear….And I did." Choukse was delighted to reach Jaisalmer and then Pokharan, the place where India tested its first nuke missile. "I did not record anything here (Pokharan) because Indian Army was training there," he said. Choukse travelled through the deserts crossing Bikaner and reached Anupgadh, another Pakistan border and saw the tomb of love-couple Laila Majnu. "After crossing Ganga Nagar deserts, I moved through Suratgarh, Hanumangarh, Pilibanga, Kalibanga areas. At every village I got a warm welcome.
At some villages I was offered food and water. The residents lauded my mission and prayed for my successful journey," Choukse said as he culminated his expedition at Bhatinda in Punjab on February 21. "At several villages I tried to make people aware about superstition and how to overcome depression and survive suicide attempts," said Choukse who lost his wife early last year, committing suicide. I will be sending my data and pictures for world recognition. After few procedures I would be getting a world record certificate," hoped Choukse. Choukse has accomplished one mission. And he is ready for another. Run Around the world for global and mental peace. "I want to construct a world renowned hospital. For that I will be moving around the world. I will start running, walking on September 21 and will try to move through 36 countries. I will try to complete this run in around four years. My 'crossing the Great Indian Desert was an attempt to go for world tour. I succeeded in doing that and will achieve another milestone," concluded a confident Choukse.