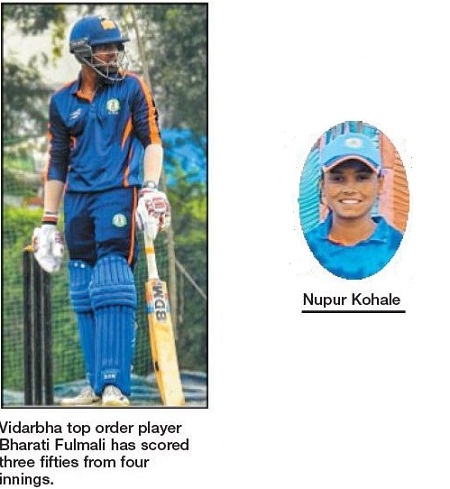 Sports Reporter :
Play table-toppers Karnataka in the last must-win league match today
THOUGH they lost a golden opportunity in their last game to qualify for quarter-finals of the Women's One-Day Tournament, Vidarbha eves have one more chance but they will have to tick all the boxes right when they take on table-toppers Karnataka in their last Elite Group E league match to be held at VB Nest Ground, Chennai on Sunday. With Karnataka already qualified for the knock-out berth with 16 points from all four wins, Vidarbha are at second spot courtesy their three wins on the trot. Had they defeated Delhi in the last game, they would have also moved up with one match in hand. But even after a good show by the bowlers, who restricted the team from Capital for a mere 137 from 50 overs, the batswomen faltered. The margin of loss, a 70-run drubbing, might come into picture, if Vidarbha lose and Delhi win on Sunday.
An outright win will take Vidarbha eves in the quarter-finals but even if they lose they stand an outside chance of making the cut. Delhi and Tamil Nadu are locked at eight points each and occupy third and fourth spots respectively (see table). Delhi have much better net run rate than Vidarbha and if they win, Vidarbha will be out but if TN beat Delhi by a small margin, Vidarbha might scrape through. Vidarbha's star batter Bharati Fulmali, who has played very well for her three half centuries, and had a rare failure against Delhi, would need to anchor the innings once again while in bowling department, it has been a team work with spinner Nupur Kohale (12 wkts from four games) being the stand-out performer. Vidarbha had starting troubles throughout the series and if they have to score a competitive total, they must start well. In all the four matches so far, they have had different opening pairs.
On the other hand, Karnataka have been on a roll. They are the only unbeaten team in the group and among four in the tournament so far. Group B leaders Railways, Group C toppers Andhra and Plate winners Mizoram have won all their five matches to book places in quarters. They have in their ranks India player Veda Krishnamurthy, who can be the difference between the two sides on her day. There will be one pre-quarters to be played on March 28 while two quarters each will be held on March 29 and 30.
TEAMS (from) Vidarbha: Revati Kantode, Khushi Jawanjal, Snehal S Maniyar, Prajakta Jogi, Raveena, BS Fulmali, HP Bokde, KR Zanzad, KU Pophali, Reena Paul, S Meshram, Sayali Kamone, SA Naidu, VV Mate, MS Bodkhe, AS Bhongade, DD Kasat, GS Wankar, LM Inamdar, NT Kohale, Sanya Chourasiya, SW Dharne, Vaishnavi Khandkar, Aayushi Thakre, Achal Shahu, Krutika Tekade, Prangini Chauhan. Karnataka: Roshni Kiran, D Vrinda, G Divya, M Sowmya, Monica C Patel, K Prathyoosha, C Prathyusha, Pushpa K, Prerana GR, Mithila Vinod, Sahana S Pawar, Sanjana Batni, S Shubha, Pooja D, Pooja Kumar M, Vanitha VR, Akanksha Kohli, Rameshwari, Rakshitha K, Veda Krishnamurthy, Shishira A Gowda, Chandu V, Anagha M, Chandasi K, Niki Prasad.