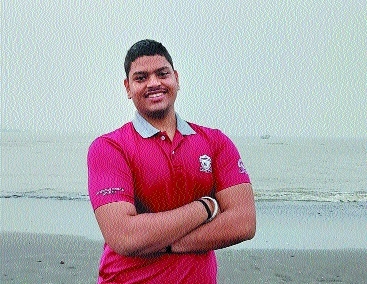 Sports Reporter ;
NAGPUR'S 18-year-old open water swimmer Jayant Jaiprakash Duble will attempt to cross Palk Strait between Sri Lanka (Talaimannar) to India (Dhanushkodi) on March 26. The solo swimming expedition is being jointly organised by JD Sports Youth Foundation and National Institute of Swimming. Through this expedition, Duble will spread the message of friendship between India and Sri Lanka, Fit India Movement and Drowning Prevention Awareness. Duble has participated successfully in various adventure sea swimming expedition in India.
He had successfully completed world's longest 81 kms swimming competition in river Bhagirathi with a timing of 12 hours 29 minutes and stood 7th amongst the participants. He successfully completed 36 kms All India Sea Swimming Competition organised by Gujarat Government. Recently, Duble has established new record in open water swimming at Goa by being the first swimmer to swim on new routes and cover a distance of 24 and 27 kms. He is also an India Book of Record Holder. Fitness is very essential in order to live a healthy life. Duble with his youth team has came forward to spread this message and has established JD Sports Youth Foundation which is recognised by Youth Affairs and Sports Ministry Of India. Also this Foundation aims to reduce the number of deaths caused by drowning due to lack of knowledge of water safety and disobeying the water safety rules.
Around 11-12 Indian swimmers have successfully swam Palk Strait. Among them, Taranath Shenoy, Rupali Repale and Balasaheb Ghadge were from Maharashtra. It will be a matter of pride for Maharashtra that after a decade, Duble will be the fourth swimmer who will attempt Palk Strait. Swimming through Palk Strait is challenging for the open water swimmers as sand bars appears and disappear with regularity as so do sharks. The danger in the sea is mostly from sharks, snakes, jellyfish and other poisonous bugs.
Midnight swimming, tides, wind force also obstruct the swimmers. For this challenging attempt, since last two years, Duble is being trained by his father Dr Jaiprakash Duble, who himself is international swimming coach, and Dr Sambhaji Bhonsale. Duble, while speaking to the press informed, that last year he was well prepared for attempting Palk Strait but due to the COVID-19 pandemic he could not attempt. During this expedition, Duble will be accompanied by two boats for his safety, out of which one boat will exclusively control the traffic and another will carry the Observer of Swimming Federation of India Tamil Vanan, lifeguards, expert local fishermen, swimmers his mother, Archana and Dr Jaiprakash. Duble is a first year BPE student of Jyotiba College of Physical Education, Nagpur. He is a member of Dolphin Swimming Club, Nagpur and 4 Maharashtra NCC Naval Cadet. For this expedition, Duble has received all related NOCs.