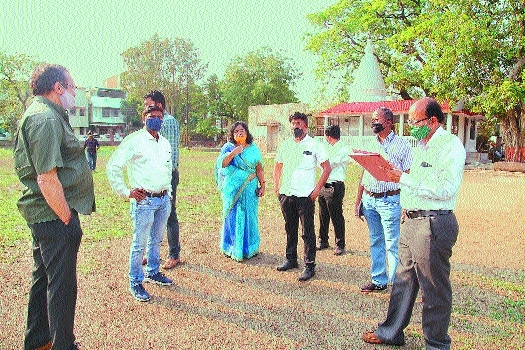 NMC Sports Committee Chairman Pramod Tabhane (4R) and others inspecting the Marartoli ground in Ramnagar.
Principal Correspondent :
IF ALL goes as per plans, the Marartoli Football Ground in Ramnagar will get a facelift which will help budding footballers of the area to train in much better playing conditions. Nagpur Municipal Corporation (NMC) has decided to develop and maintain several sports fields of the city. NMC's Sports Committee Chairman Pramod Tabhane, on Wednesday, visited Marartoli ground which is famous for futsal (five-a-side) tournaments.
During the inspection visit which is located in the Prabhag 14 of Dharampeth Zone, it was found that the ground lacked basic facilities. Tabhane directed the officials to level the football field and erect two goalposts at each end of the ground. A decision was also taken to secure the ground from all sides with compound wall and gates. Tabhane also said that sprinkler guns will also be put with proper water pipe lines to make the ground lush green.
The Nagpur Municipal Corporation will also construct two separate washrooms for men and women apart from giving a pleasant look to the area with structural paintings, landscaping. During the inspection Lakhan Yerawar, Deputy Chairman, NMC Sports Committee, Corporator Pragati Patil, Shilpa Dhote, Pramod Karauti, Kamlesh Chaudhary, NMC Sports Officer Piyush Ambulkar, Nitin Bhole, coach of Big Ben Football Club Atmaram Pande, coach Siddharth Kale, Prashant Narkhede and others were also present.