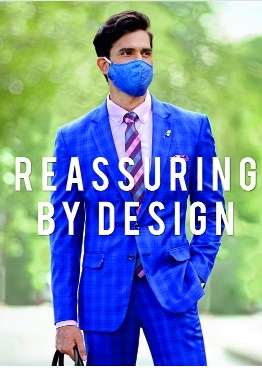 Business Bureau :
RAYMOND is the most preferred brand when it comes to clothes or readymade garments because of its assured quality, variety of designs which changes with the time still being traditional. Nearly three generations will vouch for Raymond's quality and that's why people prefer the most coveted brand.
The pandemic has proven to have far-ranging disruptive effects globally. The risk of infection is much higher and in order to maintain a healthy lifestyle during these trying times, Raymond has introduced a groundbreaking fabric with promise of overall protection from viruses, bacteria's and microbes. Now Raymond introducing VIRASAFE anti-viral fabric, which is safe for every skin type including sensitive ones. It is effective against all viruses, bacteria and microbes and finish lasts upto 30 washes. The fabric finish is approved by USFDA and USEPA.
It is a sustainable technology and eliminates colour and is certified by ISO. Raymond has a multi colour range of collections and good fabric for exclusive look and many more specially summer collection. Ensuring wellness through innovation at each step. For further details, interested may visit The Raymond Shop, Citi Centre, WHC Road, Dharampeth (Phone numbers: 6612941, 2522981).