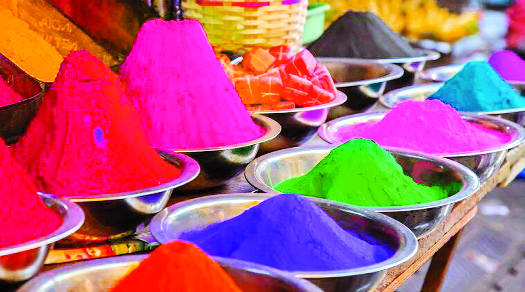 THIS year, Holi festival is going to prove colourless for traders across the country. After the COVID lock-down, the retail sector of the country was eagerly waiting for the Holi celebration this year. Due to increase in COVID cases, people are scared and have decided to celebrate Holi at home, due to which there has been a tremendous decline in the business of Holi.
According to an estimate on Holi, business worth about Rs 25,000 crore happens in the country, out of this Rs 1,500 crore worth business takes place in Delhi alone. But this year, the business would be severely affected, said Confederation of All India Traders (CAIT).
Every year, goods worth Rs 10,000 crore would be imported from China on Holi to be sold in India which included colours and toys.
Last year, CAIT's call for boycott of Chinese products on Diwali got huge support in the country. As this campaign is still underway, Indian traders have boycotted Chinese products and bought Indian goods in bulk to be sold during Holi. Preparations were also on to supply similar items in the market. But after the COVID guidelines issued on Holi in all the States including Delhi, traders all over the country are now worried as they have bought huge stock, which is currently difficult to sell due to the COVID outbreak.
Amidst a rapid rise in COVID-19 cases, the Central Government has already asked the States and Union Territories to take adequate measures to check the rise in the number of COVID cases happening just before the festive season.
National President of CAIT B C Bhartia and National Secretary General Praveen Khandelwal jointly said that the practice of celebrating Holi through congregational meetings, Holi Milan celebrations and street hangings has been going on for centuries. Small traders have also been benefiting from such programmes, which have now been curbed.
Every year in Delhi during Holi, about 3,000 big and small events would be organised. The number of such big and small celebrations is around 40,000 in the country. Apart from this, when there is no social programmes this year, people will prefer to stay in their homes. This is the reason that there is a decline in shopping that takes place a week before Holi and the markets are deserted. This year, shopkeepers may have to suffer huge losses as they have purchased toys and Gulal during Holi. But, there is still little hope for shopkeepers selling sweets, namkeen, herbal gulal, flowers and puja items.
According to the guidelines by the Delhi Government ban has been imposed in organising any kind of social gathering or celebrations on Holi this year. The Delhi Disaster Management Authority also ordered on Tuesday that on Holi, Shab-e-Baaraat, Navratri, there will be no public celebration in the city. On the other hand, after the advice of the Central Government, similar COVID guidelines have been issued in almost all the major states of the country, which will have a direct impact on business.