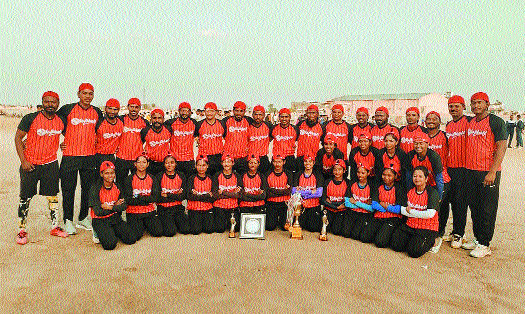 Chhattisgarh men scripted history by winning gold for the seventh consecutive time in the senior national softball championship held at Bharatpur in Rajasthan from March 20 to 24. Chhattisgarh defeated Maharashtra 13-4 in grand final of the 42nd Senior National Softball Championship.
On the other hand, Chhattisgargh women had to be satisfied with bronze medal as they shared medal with Madhya Pradesh. With this, women bagged a medal after a long gap.
Manas, Ashish, Hitesh, Veeru, Deepak and Aryan delivered outstanding performance in the grand final. Winning the toss, Maharashtra opted to field first. Both teams went scoreless in the first innings while Hitesh scored excellent home runwith two players standing on the base.
In this way, Chhattisgarh took 3 runs lead and prevented Maharashtra from scoring any runs. Chhattisgarh scored
one more run in the third innings. Making a comeback, Maharashtra scored three runs in the fourth innings. The score remained 4-3 in favour of Chhattisgarh after fourth innings.
Chhattisgarh did outstanding score in hitting in the fifth and final innings of the final as they scored 9 runs. Deepak, Manas and Sunil scored home runs, taking the total score to 13. Requiring 11 runs to win, Maharashtra could score one run losing the match 4-13. Manas Kesharwani was adjudged player of the tournament for excellent pitching.
Men's coach Amit Kumar Varu, Siyaram Patel, Dinu Prasad Patel, and women's coach Chandrashekhar Puri and Devendra Ajmani congratulated their respective teams.