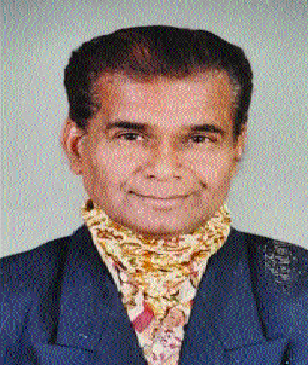 "The greatest gift we ever had came from God; we call him dad!" – Author unknown
ADV HCV Rocque, popularly known as Baba Rocque, was a well-known person in sports fraternity. He retired as a Personnel Manager, Western Coalfields Limited after putting in 31 years of service. While in service, he was widely liked by all his bosses as well as his subordinates because of his helpful and jovial nature.
Being Vice-President of All India Women's Cricket Association and President of Vidarbha Women's Cricket Association, Rocque was instrumental in making many of his students play at the university, nationals and even at international levels. His interest and inclination towards his students was such that he would provide them not only free coaching but also arrange for their tickets, kits, and other facilities too. He had to even convince parents to send their daughters to come forward to play, a time, when no one really paid heed to women's cricket, our dad gave his entire life towards women's sports with a missionary zeal and commitment of selfless service to the society at large.
His entire life has been in service for society. He was a hard-core sports person himself, a colour holder at university and national level player of cricket, hockey, football, and table tennis. We have never come across such a multi-faceted person.
A player, an ardent reader, he would start reading, whatever he came across in print, he loved classical music as well as light music. As a drama artist, my dad has won many prizes. He was a singer, a coach, a player, a connoisseur in art too! Our dad was a moving encyclopaedia.
It is our privilege to pen down a few lines on this legend. Academically, a highly qualified and intellectual person with, BA, LLB, BJ (PG), DBM, DIRPM, DMM, Visharad (Alld) to his credit, dad was instrumental in organising many sports tournaments — the (1968) Japan-India Hockey Test Match (Ladies) at Nagpur, (1974) Western India Table Tennis Tourney at Nagpur, (1995) he was appointed as Manager, Indian Girls team against England of India Tour, (1997) conducted Australia-England ODI Women's World Cup at Nagpur, (2002) was appointed Local Manager for Zimbabwe team (VCA) match at Nagpur, (2003) appointed Local Manager of West Indies Team ODI at Nagpur.
He was a dutiful son, his mother's pride, a loving husband, a wonderful father, a true brother, a caring uncle, a helpful colleague, a motivating coach and an amazingly magnanimous human being.
His never give up attitude, punctuality, patience, discipline, healthy habits, his nobility of mind, magnanimity of heart, his personality which radiated contagious joy and peace are worth emulating.
May your pure and pious soul rest in peace and may the tribe of our dad increase, we pray. (A tribute by daughters —Snehmani Rocque-Dias, Dr Jyotimani Rocque-Simon and Triptimani Baba Rocque)