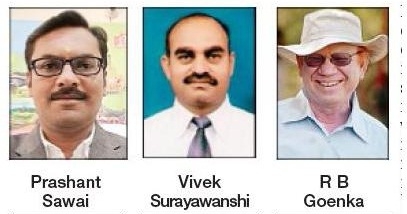 Business Bureau :
The Agro & Rural Development Forum of Vidarbha Industries Association (VIA) organised a session on "Agritourism - Emerging opportunities for farmers to become Atma-nirbhar" recently on zoom. Prashant Sawai, Deputy Director of Tourism Nagpur Division conducted the first session on "Agritourism Policy." He said Agritourism is a form of alternative to mass tourism based on sustainability, preservation of culture, heritage and traditions in rural areas. It comprises all forms of tourism in which tourists visit farms, eventually stay in them, and experience farming and its various forms.
Agritourism aims bringing the visitor in touch with the natural environment, agricultural activities, local products, and a community's lifestyle, while at the same time contributing to the host area economic stability, he explained. He said Maharashtra State is the pioneer in developing and promoting 'Agri Tourism' in the country. Agri tourism model gives the authentic experiences to the visitors by showcasing village culture, agriculture, traditions that has helped gain sustainable supplementary income source and generated local employment. Vivek Surayawanshi, Owner of Thakurwadi Agriculture & Eco Tourisms, conducted the second session on "Agritourism : A Viable Alternative for Vidarbha Farmers." He emphasized on the potentials of Agri-Tourism in Vidarbha.
He said there are as many as seven wildlife reserves in Vidarbha region; many heritage sites, water bodies (rivers / dams), hill stations and there is easy connectivity to these places. He further explained as why a farmer should get into the tourism business? He said that it augments the farm income, safeguards oneself from crop failures; it provides a platform to sell the farm produce to customers directly and it also helps in sustenance in farming. R B Goenka, Vice President of VIA, gave a presentation on Goenka Farm & Agri Tourism. He said Goenka Farm is a 50 acres of agricultural land situated in Mahalgao, Nagpur.
He further said a place with many facilities like dairy farm, lavish green lawn, fruit gardens, boating, adventure park, train ride, playstation for kids, outdoor games, stay facility and many more. Earlier, Om Jajodia, Chairman of Vidarbha Industries Association Agro & Rural Development Forum, welcomed the guest speakers. Shachi Mallick, Convener of the forum, made an opening remark. Kirty Sirothia, Project Incharge introduced the guest speakers and also conducted the proceedings. Prof Ashit Sinha, Mentor of the forum summed up the session and also proposed a formal vote of thanks. Chandrashekhar Bhadsale coined the term "Krishi Paryatan." More than 80 participants joined from Australia as well as all over India, in states like Gujarat, Lucknow, Western Maharashtra, experts from Agriculture and veterinary along with farmers, students and others attended the event in large number.