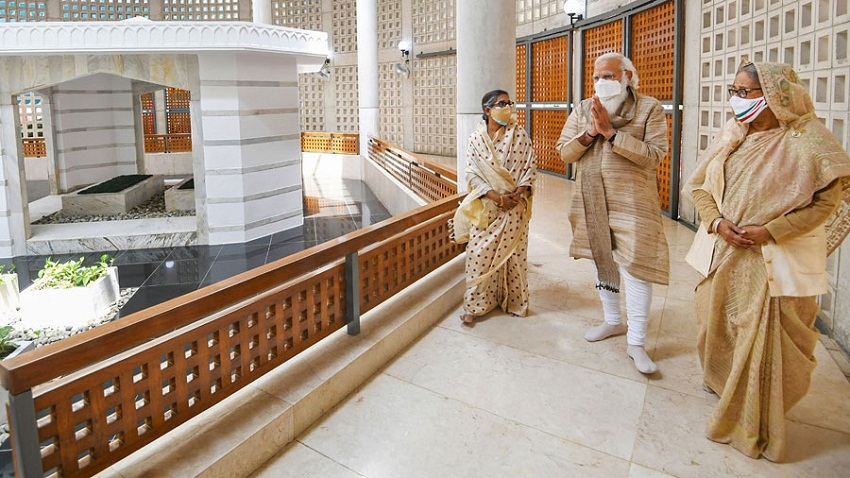 Prime Minister Narendra Modi at the Bangabandhu Mausoleum Complex, in Tungipara, Bangladesh on Saturday. Bangladesh PM Sheikh Hasina is also seen. (PIB/PTI Photo)
DHAKA :
INDIA and Bangladesh want stability, love and peace instead of instability, terror and unrest in the world, Prime Minister Narendra Modi said on Saturday as he underlined that the two friendly neighbours want to see the world progressing through their own development. Prime Minister Modi made the remarks while speaking to the Matua community members after offering prayers at their temple in Gopalganj's Orakandi - the birthplace of Hindu mystic figure and community's spiritual guru Harichand Thakur. Modi said he was waiting for this opportunity for many years and during his visit to Bangladesh in 2015, he had expressed desire to visit Orakandi, which has come true now. This place is a pilgrimage site for the spiritual relationship between India and Bangladesh, he said. "I was speaking to some people here. They were saying who could have thought that India's Prime Minister would visit Orakandi," Modi said, adding that he was feeling the same emotions as felt by the Matua community members in India after coming to Orakandi, from where Harichand Thakur disseminated his pious message.
Orakandi is the abode of Hindu Matua community, a large number of whom are residents of neighbouring West Bengal. Prime Minister Modi announced that India will upgrade one girls' middle school and set up a primary school in Orakandi. Prime Minister Narendra Modi also offered prayers at the centuries-old Jeshoreshwari Kali temple in Ishwaripur village in southwestern Bangladesh and announced that India would construct a community hall-cum cyclone shelter attached to the temple. Modi performed 'pooja' at the temple in Satkhira, which is one of the 51 'Shaktipeeths' in the Puranic tradition. Modi, Hasina launch new passenger train between India and B'desh: A NEW passenger train connecting Dhaka and New Jalpaiguri on the Indian side was inaugurated jointly by Prime Minister Narendra Modi and his Bangladeshi counterpart Sheikh Hasina via a video conference on Saturday.
This is the third passenger train after Maitree Express (Dhaka-Kolkata) and Bandhan Express (Khulna-Kolkata) running between the two neighbouring countries. The new passenger train, 'Mitali Express', was jointly inaugurated by Modi and Hasina at 6:38 pm on Saturday from the Prime Minister's Office in Tejgaon here via a video conference, local vernacular news website BanglaNews24.com reported. PM reiterates India's commitment towards concluding Teesta deal: Modi reiterated India's "sincere and continued efforts" to conclude the Teesta water-sharing agreement in consultation with relevant stakeholders during his talks with his Bangladeshi counterpart Sheikh Hasina.
Briefing reporters on Prime Minister Modi's two-day visit to Bangladesh, Foreign Secretary Harsh Vardhan Shringla said the Teesta issue was discussed during the talks between the two leaders. Modi pays floral tributes at mausoleum of 'Bangabandhu': Modi on visited the mausoleum of Sheikh Mujibur Rahman and paid floral tributes to him, becoming the first-ever foreign Head of State or Head of Government to pay homage at the grave of 'Bangabandhu' at Tungipara in southwestern Bangladesh. Prime Minister Modi was received at the mausoleum by his Bangladesh counterpart Sheikh Hasina, who is the daughter of Rahman. Sheikh Rehana, the youngest daughter of Rahman was also present.