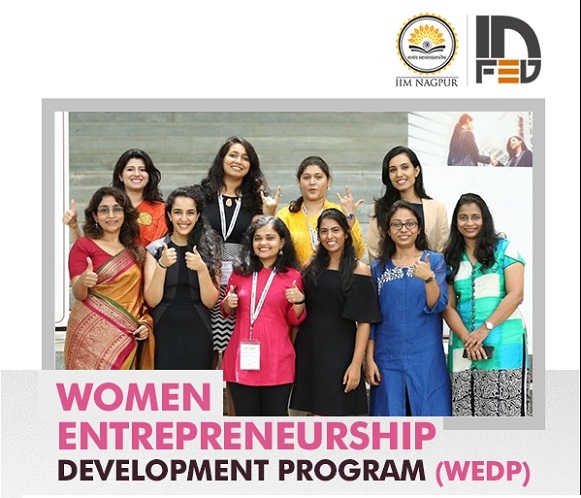 Business Bureau :
The IIMN Foundation for Entrepreneurship Development (InFED), the business incubator of IIM Nagpur, recently inaugurated the incubation module of the third iteration of the Women Startup Programme (WSP) in partnership with NSRCEL, IIM Bangalore. Dr Harkesh Mittal, Former Head and Adviser, National Science and Technology Entrepreneurship Development Board, Government of India, was the chief guest for the online ceremony, while Lathika Pai, Head of Microsoft for Startups (India and SAARC), was the guest of honour. 32 aspiring entrepreneurs entered the incubation module, which is the final phase of the WSP. Following an outreach activity in the latter half of 2020, wherein early-stage startups were shortlisted, a five-week massive online open course (MOOC) was conducted to provide a foundation for women wanting to set up their own ventures.
This was followed by a virtual launchpad (pre-incubation) module. Following the welcome address by Prof. Vidhula Venugopal (Chairperson, Centre for Entrepreneurship), Dr Bhimaraya Metri, Director, IIM Nagpur, congratulated the incoming cohort and expressed his hope that the programme would offer new insights to the incubates. He mentioned that IIM Nagpur's proximity to the industry in the Special Economic Zone at Nagpur, as well as the institute's focus on nurturing the entrepreneurial mindset makes it the ideal starting point for entrepreneurs. He stated that WSP is one of the many initiativesthat seek to establish InFED as one of the foremost business incubators in the Asia Pacific. Lathika Pai exhorted the incubates to use the programme to their advantage, forging connections and developing a support system with their peers and mentors. In an interactive address, Pai also emphasized on the importance of establishing a product-market fit, and learning from hurdles and failures.
In his address, Dr Harkesh Mittal shared his experiences as an enabler in the entrepreneurship and innovation ecosystem. Through a series of anecdotes, Dr Mittal highlighted some defining features of an entrepreneurial mind, and appealed to the incubates to put their learnings from the programme into immediate action. The event was concluded with a vote of thanks by Dr Shivaji S Dhawad, Chief Operating Officer, InFED. The Women Startup Programme aims to support ambitious and innovative women entrepreneurs by enabling them to transform their idea into a business venture and enhancing their entrepreneurial and managerial skills.
The focus of the programme is on providing entrepreneurs, especially from tier-II and tier-III cities, accessible and affordable learning to develop their capabilities. The third cohort of the Women Startup Programme consists of 32 aspiring entrepreneurs, most which hail from Maharashtra. Their proposed ventures connect to a number of industries, with healthcare / sanitation and food / agriculture and rural development contributing to the majority. EdTech and IT/ ITES also have a significant presence in the cohort.