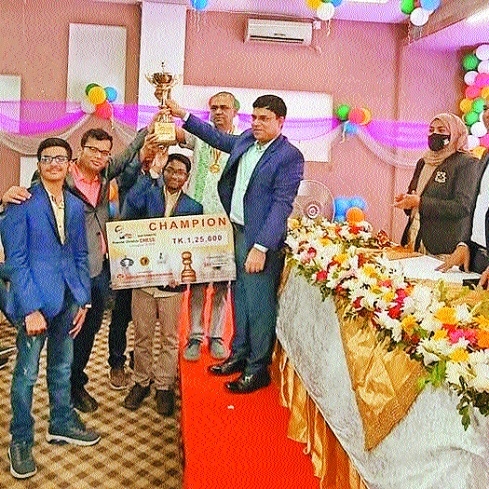 GM Raunak Sadhwani (L) with his Bangladesh Police Team after winning the title.
By Paritosh Pramanik :
MAKING his presence felt, Nagpur's only chess Grandmaster Raunak Sadhwani showed his prowess in Dhaka, Bangladesh. Representing Bangladesh Police team, GM Sadhwani helped his side clinch the Mujib Borso Saif Powertec Premier Division Chess League on Monday. The invitational competition was organised by Syed Shahab Uddin Shamim at Dhaka. Sadhwani's team comprised Bangladesh's International Master Mohammad Fahad Rahman, Grandmaster Mollah Andullah Al Rakib, GM Rahman Ziaur and GM Surya Sekhar Ganguly from India. In the competition, GM Sadhwani won creditable eight points from 10 games.
The title win helped him earn 10 rating points taking his current live rating to 2555. Bangladesh Police team won the title hands down with 20 points in their kitty. Shahin Chess Club finished second with 14 points while SAIF Sporting Club finished third, also with 14 points. The tournament had 11 teams and was played in round robin format with all teams playing each other. On his way to helping Bangladesh Police team win the title, GM Sadhwani defeated Kaustuv Kundu, Subhyan Kundu, Dhulipalla Bala Chandra Prasad, Neeloptal Das, Mohammad Minhaz Uddin, Anup Deshmukh and Bhuiyan Golam Mustafa. He managed to hold Mitrabha Guha and Kovalev Vladislav while lost only one game against Abhimanyu Puranik. An elated Sadhwani said he was delighted with the win. "First of all I want to thank Bangladesh Police team for inviting me and for their great hospitality.
Bangladesh Police became the champions. I am happy that I contributed in this achievement," said 15-year-old Sadhwani. The only GM from Nagpur said he was grateful that he got this opportunity to play On the Board (OTB) tournament. It has been more than a year that On the Board tournaments took place due to coronavirus. "I am grateful that I got this opportunity to play OTB. This helped me meet my friends, simply loved the tournament atmosphere which I was missing from last one year. It was nice to play OTB. It's the real chess," GM Sadhwani added.
The Grandmaster said that he is happy with his performance but also added that he needed to improve on various aspects of the game. "I am really happy with my performance. Above all it helped my team win the title. But still, I need to improve on various aspects of the game and I am working on that," Sadhwani said. Sadhwani thanked GM Ganguly for taking care of him and teaching him finer points of the game. "I would like to thank my team-mate and senior pro GM Surya Shekhar Ganguly for taking such a good care of me. I have learnt valuable lessons from him." Sadhwani hoped that the pandemic ends soon and he gets opportunities to play On the Board tournaments frequently. "I hope this pandemic ends soon. It is a very tough time for everyone. I am eagerly waiting for more strong OTB tournaments," he concluded.