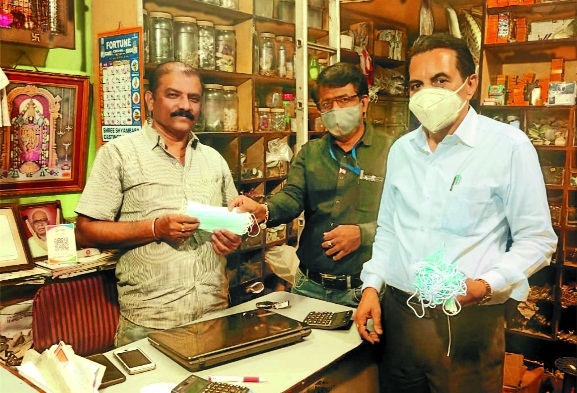 Business Bureau :
Nagpur Chamber of Commerce Limited (NCCL) has launched drive to create awareness about the safety measures to be taken during the present COVID-19 pandemic. It also distributed mask free of cost to various trade associations. All the directors of the Chamber told the members of the trade associations that they should tell their employees to follow the guidelines pertaining to COVID-19.
They should use mask, keep safety distance and make use of sanitisers. They should first ensure that customers who are visiting the shops should use of mask and sanitiser, check their temperature and then give them entry. If any customer who is not having mask, he or she should be given mask at free of cost. Traders were told to strictly follow the directives of the concerned authorities. The campaign is being implemented in various phases in the city by the Nagpur Chamber of Commerce Limited.
Present were Vishnukumar Pacheriwala, President of Chamber, Tarun Nirban, Secretary, Kailash Jogani, Past President, Pradip Jajoo, Senior Vice-President, Govind Pasari, Vice-President, Venugopal Agrawal, Treasurer, Vivek Murarka and Mitesh Kataria, Nitin Bansal, Vijay Jaiswal, Vipin Panpalia, Shankarlal Khandelwal, Nathabhai Patel, Vasant Paliwal, Devikanandan Khandelwal, Sanjay Pande, Sushil Agrawal, Gajanan Waghmare, Kamal Kalantri, Girish Liladiya, Vasudeo Jhamnani, Ajay Pande, Rajesh Soni, Ravindra Chandak, Sandip Sabu, Manoj Bagdi, Purushottam Thakre and others.