Disha Kasat
Sports Reporter :
A BRILLIANT all-round effort by Vidarbha vice-captain Disha Kasat went in vain as the side lost to nemesis Andhra in quarter-finals of the Women's One-Day Tournament by 49 runs at Saurashtra Cricket Association Stadium in Rajkot on Tuesday. Batting all-rounder Disha (3-40) first returned with best figures for Vidarbha as Andhra elected to bat and then, opening the innings, matched the match's top score of 52 but saw her side lose once again to Andhra. Before this crucial last-eight game, Vidarbha women had played six matches against Andhra and never won a single tie. They lost all the four T20s, a one-dayer and an U-23 one-dayer to the team from south.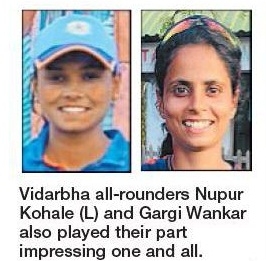 With Vidarbha restricting Andhra to a modest 218-6 in 50 overs, it seemed the team would break the jinx. But that did not happen as the batters had a bad day in the office collapsing at 169 in 46.2 overs. Andhra skipper and opener N Anusha (52; 67b, 8x4) along with CH Jhansi Lakshmi (33; 81b, 2x4) gave the team a slow but steady start adding 84 runs for the first wicket. Off-spinner Disha gave Vidarbha the much needed breakthrough by catching N Anusha off her own bowling on last ball of the 22nd over. Three overs later, Vidarbha new ball bowler right-arm seamer Gargi Wankar (2-32) disturbed the stumps of Jhansi Lakshmi sending back the other opener. Number three V Pushpa Latha (39; 40b, 5x4) came up with an impressive knock and stitched a 59-run third wicket partnership with M Durga (32; 61b, 4x4) before becoming the victim of left-arm spinner Nupur Kohale.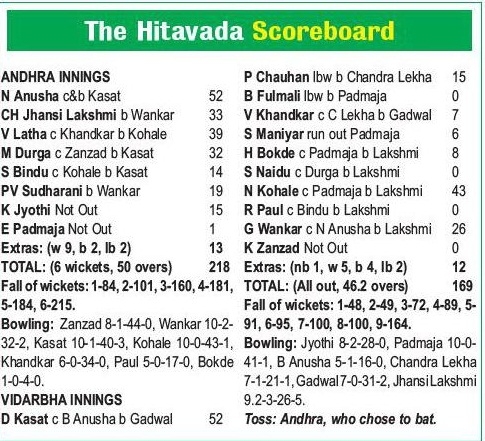 At that stage, Andhra were 160-3 in 39.1 overs. Vidarbha bowlers did well to contain the opposition to reasonable score. In their last league match against a strong Karnataka side, Vidarbha had made 216 batting first. So, it was expected that the girls would be able to score those three extra runs this time to make their maiden semi-final appearance. Vidarbha started the chase well. Disha (52; 90b, 6x4, 1x6) and Prangini Chauhan (15; 37b, 2x4) took their own sweet time to take Vidarbha to 48 in 16 overs. But on first ball of a fresh over, Prangini was declared lbw to G Chandra Lekha going across. Vidarbha's batting mainstay and team's top-scorer Bharti Fulmali, who scored three fifties in five league matches, arrived at the crease. On her sixth ball, Fulmali was given out in the same fashion only the bowler this time was E Padmaja. Bharti could not even open her account.
This was a huge blow to Vidarbha. Vaishnavi Khandkar faced 22 balls for her seven while Snehal Maniyar (6) and Harsha Bokde (8) played 13 and 15 balls respectively. From a healthy looking 2-72, Vidarbha were soon 8-100 (in 32.4 overs) losing six wickets for 28 runs. Nupur (43; 52b, 4x4) and Gargi (26; 35b, 3x4) did not give up accumulating 64 runs for the ninth wicket. But it was asking too much from the duo. Nupur was the last one to get out as Andhra's CH Jhansi Lakshmi (5-26) took all the last five wickets to fall. Overall, it was a good run by Vidarbha eves, who started the tourney with three wins, beating Meghalaya, Tamil Nadu and HP in the league stage and made it to their maiden quarters.