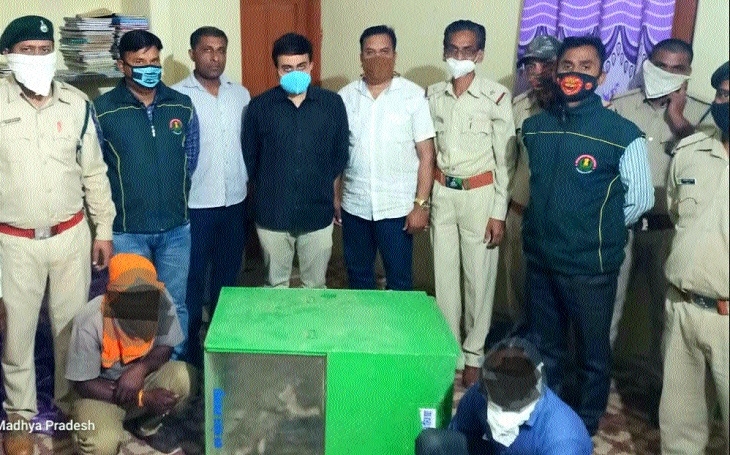 The joint team members with the two accused and the pangolin.
Staff Reporter :
The joint team of Wildlife Crime Control Bureau, Special Task Force (STF) Jabalpur, Crime Branch Jabalpur and Forest Department, Patan, rescued a live pangolin from two accused who were out to sell the animal. Under the direction of Regional Deputy Director, WCCB, Abhijeet Rai Choudhary, Incharge Crime Branch Jabalpur, SP Siddharth Bahuguna, STF Jabalpur incharge, SP Neeraj Soni and Jabalpur Divisional Forest Officer and Anjana Sumitra Tirki, efforts are being made to put effective control over crime against wildlife.
Under the same, an informer gave a clue on March 2, 2021 about a few suspicious persons who were trying to sell unknown material related to wildlife on a white Bolero (MP 18 C 5404) on Katangi-Belkhadu route. Soon after receiving information, the senior officers immediately constituted a joint team of WCCB, STF, Crime Branch and Forest Department. After strenuous efforts, the team noticed a white Bolero on Belkhadu-Nunsar route at a distance of 2 kms from Belkhadu. The vehicle was occupied by two persons who tried to escape after they were stopped by the team. The team cordoned the area and arrested both the accused identified as Anil Thakur and Kamlesh Thakur. The team also seized a sack from them. When the sack was opened, the team found a live Pangolin. Seizing the vehicle, the team took both the accused under custody and took them to Patan Range Office. Further action is underway under Wildlife Protection Act 1972.