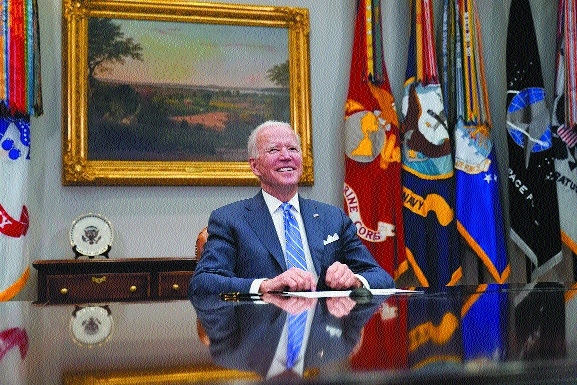 US President Biden has created history by appointing at least 55 Indian-Americans to key positions in his administration
By Lalit K Jha
INDIAN-AMERICANS are "taking over the country", US President Joe Biden said on Thursday, referring to the large number of "incredible" professionals from the community holding key positions in his administration. In less than 50 days of his presidency, Biden has appointed at least 55 Indian-Americans to key leadership positions in his administration ranging from his speech writer to the NASA, to almost every wing of the Government.
"Indian — of descent — Americans are taking over the country: you Dr Swati Mohan); my Vice President (Kamala Harris); my speech writer, Vinay (Reddy). I tell you what. But thank you. You guys are incredible," President Biden said during a virtual interaction with scientists at NASA who were involved in the historic landing of Perseverance rover on Mars on February 18. Indian-American scientist Swati Mohan leads the guidance, navigation, and control operations of NASA's Mars 2020 mission.
Biden, who was sworn in as the 46th President of the United States on January 20, has created history by appointing at least 55 Indian-Americans to key positions in his administration. This does not include Vice President Harris, which is an elected position, and Neera Tanden, who a day earlier withdrew her nomination from the position of Director of White House Office of Management and Budget. Nearly half of them are women and a sizable number of them are working in the White House. So far, the Obama-Biden administration (2009-2017) has the distinction of appointing the largest number of Indian-Americans in any administration, the previous Donald Trump administration was not lagging far behind as it appointed the first ever Indian-American with a cabinet rank and inside the National Security Council.
The Biden administration has for the first time appointed such a large number of Indian-Americans in the first 50 days of his administration. This past week, Dr. Vivek Murthy testified before a Senate Committee for US Surgeon General and Vanita Gupta is all set to appear for her confirmation hearing for Associate Attorney General Department of Justice.
Path to NASA started watching Star Trek: Swati Mohan tells Biden: DR. SWATI Mohan, the Indian-American aerospace engineer, who played a pivotal role in the successful landing of NASA's Perseverance rover on Mars, has told President Joe Biden that her path to the premier US space agency began when she watched the first episode of Star Trek as a child. "In addition to those fantastical scenes of space, what really captured my attention was this really close-knit team which was working together, manipulating this technological marvel with the sole purpose of exploring space and understanding new things and seeking new life," Mohan told Biden during a virtual interaction on Thursday.
President Biden congratulated the NASA team responsible for the successful landing of the six-wheeled rover on Mars and for giving the country a "dose of confidence" at a moment when the nation's reputation as a scientific leader has been tattered by the coronavirus pandemic.
Biden, speaking during a video conference call with the leadership of NASA's Jet Propulsion Laboratory (JPL) team led by Dr. Michael Watkins, expressed awe over the landing of the Perseverance.
Interacting with Biden, Mohan said, "You know, Perseverance is my first mission at JPL, where I've gotten to work from the very beginning of formulation, all the way through operations, and it made me feel like I was part of that crew.
"Being able to work with this incredibly diverse, talented team that has become like a family, spending years creating our own technological marvel has been a privilege," she said.
"Those last days and weeks leading up to landing day, it was pretty smooth, but we were all still really nervous and, frankly, terrified until we got through those final seven minutes.
Biden looks forward to engaging with Quad partners in Indo-Pacific ASAP
UNITED States President Joe Biden looks forward to engaging with his counterparts in Australia, India and Japan in the Indo-Pacific region as soon as possible, according to a senior administration official.
Quad comprises Japan, India, Australia and the United States. The four countries had in 2017 given shape to the long-pending proposal of setting up the "Quad" or the Quadrilateral coalition to counter China's aggressive behaviour in the Indo-Pacific region. "President Biden has had warm and productive early conversations with his counterparts in Australia, India, and Japan, and looks forward to engaging even more directly with our partners in the Indo-Pacific as soon as possible," a senior administration official told PTI.
In less than 50 days after being sworn in as the President of the United States, Biden and his administration, including Secretary of State Tony Blinken, Defence Secretary Lloyd Austin and National Security Advisor (NSA) Jake Sullivan have had unprecedented engagement with their counterparts from Quad countries, official said.