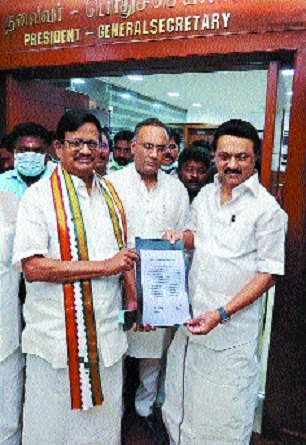 DMK President MK Stalin and TN Congress Committee President K S Alagiri with the Assembly poll seat-sharing papers at Anna Arivalayam in Chennai on Sunday. (PTI)
CHENNAI :
AFTER tough negotiations that stretched for days, the DMK on Sunday allotted 25 Assembly seats and the Kanyakumari Lok Sabha constituency to its key ally, the Congress. A formal pact for the April 6 Assembly election was signed by DMK President M K Stalin and Tamil Nadu Congress Committee chief K S Alagiri at the Dravidian party's headquartes 'Anna Arivalayam' here.
After days of deliberations, a point of conclusion was reached late Saturday night and Congress leader and Tamil Nadu in charge Dinesh Gundu Rao told reporters that the agreement was signed in "a spirit of cooperation" when the country was facing a 'threat' from the BJP. Rao and Alagiri called on Stalin at his residence here last night and said the pact would be signed on Sunday, but declined to give an indication on the number of seats that would be allotted. Asked if his party was satisfied with the number of seats allotted by its ally, Rao said the only aim was to ensure the victory of the secular front led by DMK.
"The decision on accepting the DMK's offer was taken only after consulting all senior leaders and the high command and "there is no difference of opinion within our party on this issue," he added. TNCC chief Alagiri, however, pitched in, saying, "we are fully satisfied."