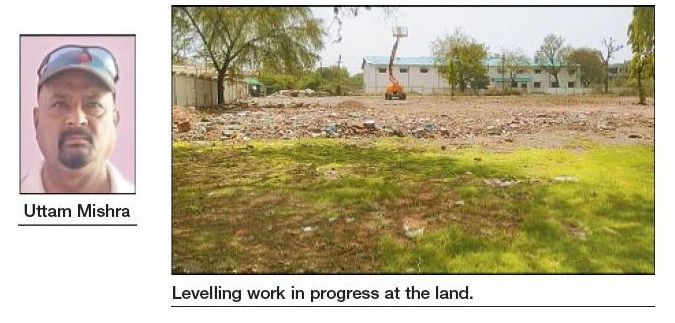 By Anupam Soni :
THEY have been running pillar to post to get some space for themselves for long. Their unity and perseverance was rewarded when the officials at Divisional Sports Complex, Mankapur finally handed divyang cricketers of the city four acres of land and a huge hall for their exclusive use on the premises recently. Avinash Pund, Deputy Director, Sports handed Uttam Mishra, President of Maharashtra Cricket Association for Disabled, the said piece of land and an existing structure for the use for divyang players. City's disabled players, led by Mishra, had met Pund, Divisional Commissioner and even ministers in the past pressing for their long pending demand of a cricket ground for regular practise. They had even warned the civic bodies of severe agitation if their demands were not met with.
They were assured of a place on the premises and the officials kept their words finally obliging them recently. "First and foremost, I would like to thank all those who have contributed in allotment of this piece of land to us. Now, we can say proudly that we, the disabled sportspersons of the city, have our own place for practising and recreation," said Maharashtra's first (in handicapped category) Shiv Chhatrapati Awardee Mishra while talking to 'The Hitavada' on Wednesday. "It is about four acres of land wherein we would like to develop a cricket ground having 5-6 pitches. There would be other sports facilities too. We have been given a big 15x50 square feet hall with two small chambers of five by ten feet each. Those spaces we would be using as our office," Mishra informed about the land and structure offered to them. Though happy with the land, they are facing funds shortage to get things in shape.
"The land is not levelled and we will have to do it on our own. It has a huge depression and earth filling of about 20-25 truck will be required to level it for proper cricket ground. The hall was also in very bad shape and we have completed some repair works and painting. Moreover, all the painters involved are disabled persons. Though we are paying them, it has at least generated some work for them also," said Mishra. Mishra appealed for generous donations. "I would like to request philanthropists of the region and corporate houses to come forward to help us in shaping the ground. It is not necessary that they donate us only.
They may directly make payments to the contractors engaged for different works. We don't have toilet facilities at the venue which is a must. I will be approaching the Nagpur Municipal Corporation and Corporator Vikas Thakre for the same but it will take a lot of time. If get a sponsor, we can construct it ourselves," he said. When asked whether the play ground will be limited to cricketers only, Mishra said, "No disabled association has space. This is a big place and we have decided to accommodate all. Arjuna and Dronacharya Awardee Vijay Munishwar will be with us, para Olympic sports like kabaddi, volleyball and archery will also be practising here only. The facilities will be open after inauguration on Good Friday," Mishra signed off.