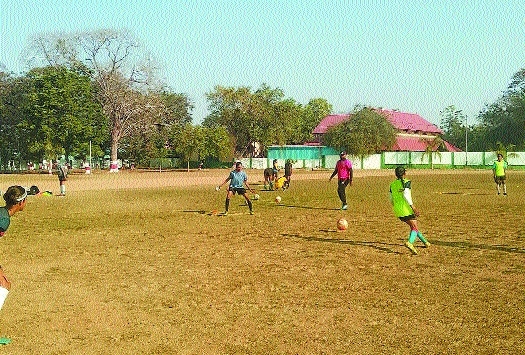 By Paritosh Pramanik :
To open their campaign against Next Sports Academy today
LAST year, they could not manage to arrange a sponsor and had to miss out on an opportunity to play the prestigious competition. However, Annie Paul, the women's football coach of Nagpur, ensured that this time there won't be any shortage of funds. From getting a sponsor to conducting selection trials amidst restrictions, training at different grounds and doing fitness through Zoom platform, women footballers from Nagpur are set to kick-start their season with participation in Indian Women's League. After almost a year without a game, eve footballers from Nagpur would be looking forward to some on-field competition. Amma Football Club of the city will be taking part in the Western India Football Association (WIFA) organised Indian Women's League (Women's Football League) which begins at Cooperage ground in Mumbai on Thursday. WIFA is the football governing body of Maharashtra with its headquarters in Mumbai. Total seven teams from Mumbai, Satara, Palghar, Pune and Nagpur, namely, Footie First, Pacangan FC, India Rush SC, Kenkre FC, PIFA FC, Next Sports Academy and Amma FC are taking part in the round robin league tournament. Amma FC will open their campaign against Next Sports Academy on April 1 at 10 am.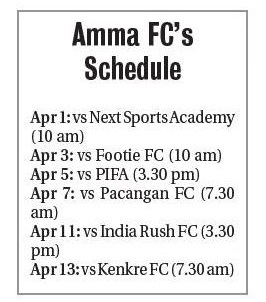 The finalists of the tournament will qualify for the India leg of the tournament which will be held later in the year. Annie, coach of the club said the team has a great chance to showcase their talent. "This team stands good chance to qualify. Last year also we qualified by emerging as the best club in the (Nagpur) district but due to lack of funds, we were unable to send our team for the prestigious tournament," Annie told 'The Hitavada'. "This year we managed to find sponsors for our team. It's a long tournament which will be played for around 15 days. We have to arrange for our travel expenses as well as stay. This time we started preparing early and arranged enough funds," a satisfied Annie said. As last year women's tournament could not take place in Nagpur due to COVID-19, Annie decided to hold selection trials this time.
"Nagpur District Football Association (NDFA) could not hold competition last year. Winners of district tournament make it to the league. So, we decided to conduct selection trials for girls at Central Railways Institute Ground in Ajni. We shortlisted players during the three-day trials and then conducted conditioning camp. But due to lockdown our training got hampered. For last couple of days we practised at Yashwant Stadium," said Annie. To keep players fit Annie conducted fitness classes through Zoom platform. "We were unable to hold fitness training due to restrictions on physical training by the local authorities. Hence, we conducted fitness classes through Zoom. This helped players remain in shape," added Annie. Annie hoped that the team can win matches and qualify for the Indian league. Most of the teams from other zones have already qualified. Only Maharashtra zone's tournament is remaining. Our team is strong and I think they can qualify for the Indian Women's League.
This is a very big platform for women. It's on the lines of Indian Super League. Players will definitely benefit from this meet," she claimed. Leonard Louis Paul is President while Richard Anthony is Secretary of Amma FC. Amma FC Team: Goalkeepers: Stanzin Tsomo, Bhubneshwari Pendam. Defenders: H Yadav, Trupti Sakhre, Annie Anthony, Kiran Jadhav, Vinita Bhalavi, Rani Kadam, Akansha Shelare, Nazah Mistri. Midfielders: Cristal Gomes, Sunita Yadav, Muskan Upadhayay, Rakshanda Soneka. Forwards: Ria Pinto, Nidhi Verma, Punam Kumari, Nikita Shende, Sneha Uikey. Officials: Coaches: Annie Louis Paul, Daryl Samuel, Kunal Meshram, Peter Anthony. Managers: Roshni Khobragade, Priyanka Lanjewar.