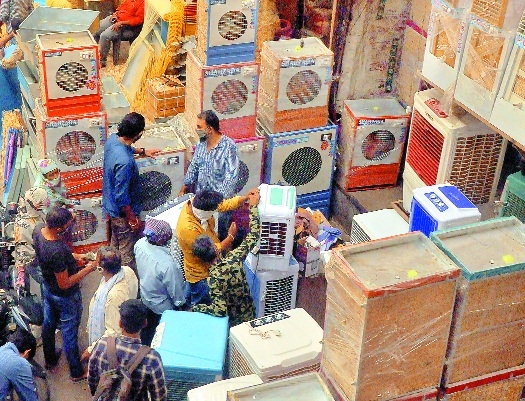 Business Bureau :
It is not only the temperature which is rising but also the prices of desert coolers that have shot up this summer season. The prices of desert coolers have gone up by 30 per cent to 40 per cent mainly due to hike in steel prices. The main component of the desert cooler is its body that consists of steel angles and metal sheets. This year the steel prices have increased to Rs 58 per kilogram as compared to Rs 42 per kilogram registered in year ago period. This was revealed by Sanjay Topre, owner of Navdurga Traders, situated at Cotton Market while speaking to The Hitavada.
Another major component which adds to the cost of desert coolers is the labour charges that have not increased this season. Trained workers are not getting adequate work therefore their charges have remained the same as last year, he said. With temperatures increasing to 41.9 degrees Celsius the demand for desert coolers is gradually picking-up. "Most traders expect that the demand would be better than the previous year if there are no further lockdowns," he said.
Aslam Opai, owner of Quality Enterprises and a manufacturer of coolers from the past 30 years, said that the prices of desert coolers have appreciated by 35 per cent to 40 per cent due to rise in steel and raw material prices. The desert coolers being quoted are as follows: 2 feet cooler at Rs 1,700 to Rs 2,000, 3 feet cooler at Rs 2,500 to Rs 4,500, 3 feet cooler at Rs 4,000 to Rs 7,500, 5 feet cooler at Rs 6,000 to Rs 9,500, depending on the quality and brand. Last season the desert cooler manufacturers had been devastated and sales were badly affected due to the COVID-19 induced lockdown of more than two and half months. The manufacturers and dealers in desert coolers still have huge stock which they want to clear this year. This season, due to the uncertainty in shop timings and fear of further lockdown the desert cooler manufacturers have restricted production to just 20 per cent to 30 per cent.
"The Government should understand that cooler business is seasonal. The peak period of desert cooler business is from March to May. Timings to close shops should not be frequently changed as it creates confusion amongst customers and affects business,"he said. He suggests that Government officials should be posted at each major market in adequate numbers to control and manage the crowd. The shopkeepers on their part would ensure that customers who are visiting the shops should use mask and sanitiser, check temperature and then give them entry. The number of customers should also be restricted. The traders should follow the safety operating procedures.