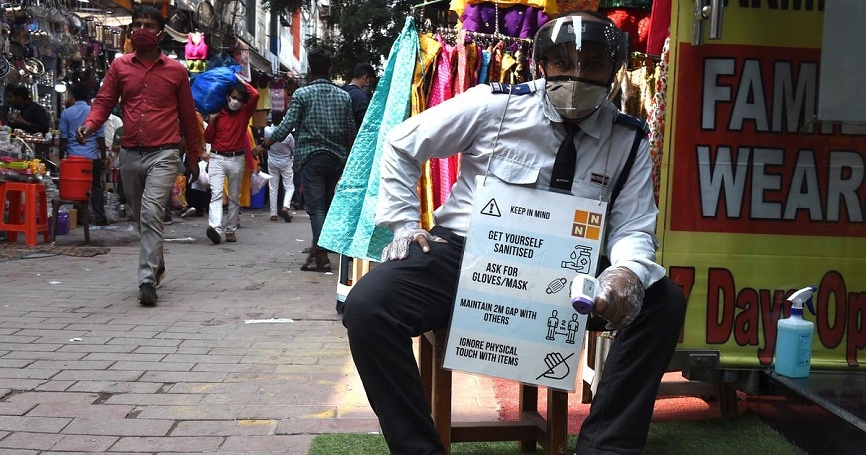 Business Bureau :
In the wake of steep rise of COVID cases in various States of the country, the Confederation of All India Traders (CAIT) has advised all trade associations to step up their efforts for mandatorily observing safety protocols of COVID. This should be observed not only by the traders and their staff but also their respective customers. CAIT has also advised that every association should immediately deploy trader volunteers in their respective markets to make sure that every passerby or visitor should be wearing masks.
In case anyone is found not wearing the mask, the association volunteers should provide such people a mask free of charge. CAIT has floated a slogan 'Mask Nahin To Saamaan Nahin' and has advised trade associations across the country to inform their members that if any customer is visiting their shop, they should not give them goods unless the consumer wears the mask. CAIT has suggested to the Government that wearing a mask should be made compulsory by law as it was done in case of wearing helmets on two-wheelers and safety belts in four-wheelers. CAIT National President B C Bhartia and Secretary General Praveen Khandelwal jointly informed that the CAIT has advised the trade associations across the country to extend full cooperation to administration of their respective State in its efforts to combat COVID cases. However, the traders across the country feel that asking shops to remain closed is not the right solution to combat escalation of the COVID cases.
There has to be a comprehensive policy considering all kinds of good and bad effects of keeping shops closed. Both Central and State Governments should convene a meeting with stakeholders of economy and some kind of unanimous decision should be taken to ensure that effectively the increasing rate of COVID cases should be brought down whereas the commercial activities may run smoothly by following all safety protocols as suggested by the Government. CAIT has floated an online survey among traders of the country on issues related to lockdown and COVID safety precautions. After assessing the results of the survey, the CAIT intends to make a representation to Prime Minister and chief ministers of all the States.