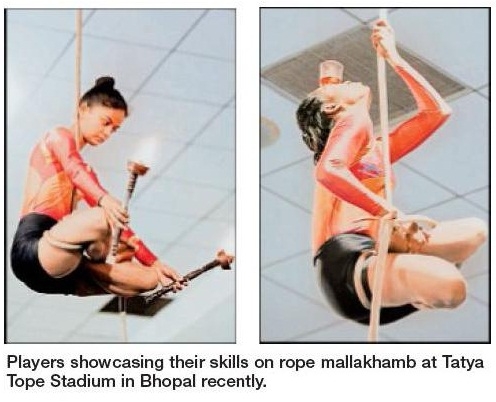 Sports Reporter :
BHOPAL'S
Praneeth Yadav and Ujjain's Shivani Kiloria emerged as 'Champion of Champions Award' for their all-round brilliant performance in the three-day mallakhamb competition held at Tatya Tope Stadium recently. Ujjain district players came out with wonderful show to bag both the overall champions trophies in boys and girls categories. Shajapur bagged runners-up title while players of Panna and Chhatarpur districts stood third in girls' senior and junior groups. Minister for Sports and Youth Welfare Yashodhara Raje Scindia honoured these players with trophies and medals in the prize distributing ceremony.
In the closing ceremony, players performed brilliantly in pole mallakhamb, rope mallakhamb and hanging mallakhamb events. Ujjain's player Shweta Chouhan and Tanisha Yadav were cheered with loud applause as they balanced a glass of water and a burning candle on her head and holding fire-torch in both hands respectively. "A mallakhamb academy will be established soon in Madhya Pradesh," promised Scindia while addressing the gathering.
Scindia said that players in the state were natural in traditional sport mallakhamb and that they definitely will make a unique identity of the State in this sport. Ujjain's Vishnesh Sugandhi told 'The Hitavada' that he is committed to the sport since he was ten and practices 6 to 7 hours a day. "To become what I am, I refrained consuming a single bite of rice and besan since I was five," he added. Shweta, who also showcased her skills in talent show 'India's Got Talent' said that the sport was gaining popularity and that the players were finally being provided with the facilities and respect they deserve.