Sports Reporter :
WITH the daily figures of rising positive patients and deaths due to coronavirus in the city as well as in the whole of Maharashtra State, the organisers have postponed the district as well as senior athletics championship. The district tourney was scheduled to be organised from April 15 has been postponed and no fresh dates have been announced. Likewise, the state championship that was scheduled to be held at Pune during the month end has also been postponed. Both events were important as far as selection of Maharashtra teams for the senior nationals to be hosted from June, 25-29 is concerned. The virtual meeting of Maharashtra Athletic Association (MAA) was held recently in which the decision to put off both the events was taken.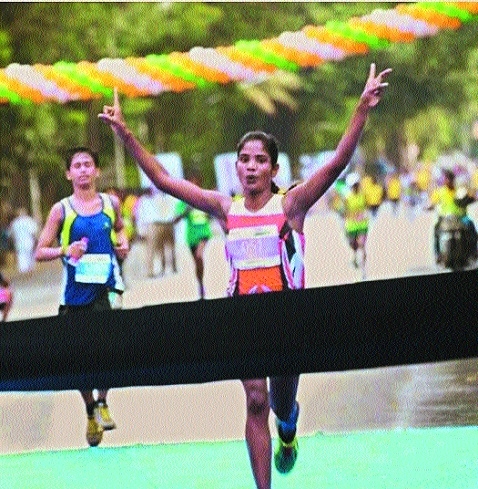 City's women athletes like Jyoti Chavan (in pic above) have been doing well in the recent past at State and national level events and at half and full marathons.
"As corona situation has become complicated and the state government has prohibited all the sporting activities, the decision was taken to postpone the events," informed Dr Sharad Suryawanshi, Joint Secretary, MAA. "If the situation does not improve, only selection trials will be conducted. And in case the selection trials are also not possible, then the players will be selected on the basis of their performance in the recently held Federation Cup Athletics Championship and World University Games trials," Dr Suryawanshi added. About important national championship which is slated to be held in June end, Dr Suryawanshi said, "The senior nationals will take place at any cost since it will be the last opportunity for the athletes to qualify for the Olympics.
Therefore it is now the responsibility of the athletes to keep themselves physically fit for the nationals." Notices sent to athletes who didn't wear the official T-shirt It was decided to take disciplinary action against some erring athletes during the meeting. action will be taken against four Nashik athletes who didn't wear the official T-shirt of MAA during Senior National Cross Country held at Chandigarh. They have already been issued show cause notices by MAA, it has been learnt. Also, during the age verification, it was found that some athletes were over age during the Junior National Athletics Championship held at Guwahati. Action will be taken against them too, it was confirmed in the meeting.